Well, well, well… All of us locals know that Tucson is known for its amazing Mexican food, but now there's recognition from
National Geographic
! We, of course, have a great selection of Tucson
accolades
, here is a collection of our food-related ones. If you want to jump straight to restaurants we love, you are more than welcome to do so. Back in 2015 Tucson was awarded the first US city with the Capital of Gastronomy designation and joined the UNESCO Creative Cities Network. Naturally, we covered the decision
here
, and so did the Smithsonian Magazine. The Gastronomy award is not the only foodie mention we've got. Not by a long shot.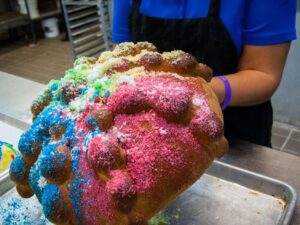 Not Just National Geographic
Just recently the Washington Post recognized
La Estrella Bakery
for their amazing pan de muerto and other traditional Mexican treats. Also, Forbes magazine mentioned local
Carlotta Flores
of El Charro as one of 50 over 50 to keep an eye on. She has several Charro restaurants, all with a slightly different spin and all delicious. We also love
Tucson Meet Yourself
, colloquially known as "Tucson Eat Yourself." Here you will find not only amazing Mexican food but food from all over the world. All brought to you by Tucson citizens sharing their cuisine, a melting pot if you will. A pot you can eat a lot of great food out of. Pretty please don't take our word for it. Come check us out, we are so much more than the food. There are dozens of reasons to visit Tucson whether it's our spectacular sunsets or the
hiking trails
. Are you in town for a celebration? Be sure to pick up some local
beer & wine
for an intoxicating taste of the area. Thinking of retiring here? It's a good choice, Tucson is rated one of the best for
retirement living
. Whatever brings you here, we're certain you'll want to stay.
https://www.seetucsonhomes.com/wp-content/uploads/2021/12/National-Geographic-Traveller-Food.pdf