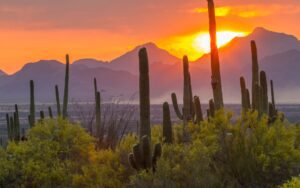 Saguaro National Park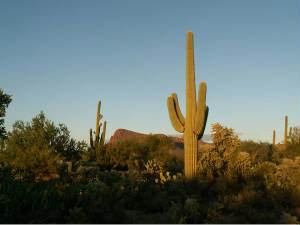 Bike or Drive through the Saguaro National Park via Cactus Forest Loop Drive. Enjoy the incredible views of the Rincon Mountains and all the different cacti and their flowers.
If you're into hiking, take the one-mile loop along the Freeman Homestead Trail. Be sure to be safe. Safety is paramount while strolling through the desert. Take a lot of water and know your safety rules during the monsoons. Floods can come out of the blue and can sweep you away.
The Arizona Sonora Desert Museum is also located within the park. Within the museum, you will find a wide variety of animals found within the Sonoran desert including stingrays! You will also find an art gallery, restaurant, raptor flight displays, and a host of educational material for audiences of all ages.
The SNP is also home to dozens of ancient petroglyphs! Located in the west park via the Signal Hill Trail it's an easy hike. Take as many photos as you like but please DO NOT touch the petroglyphs. While they are literally etched in stone, the oils from our fingers and hands build up and erode over time. We want you to enjoy them as well as people for generations to come!
Whatever brings you to the Saguaro National Park it's important to be mindful not to litter or take anything away. Leave no trace. Nearly 2 million saguaro's make up this park and while standing amongst them it's easy to forget that they're endangered. As mentioned by the New York Times, climate change has led to hotter temperatures. This, in turn, gets translated to hotter (and more frequent,) forest fires that destroy more saguaros. This is causing a curb in the growth of these majestic giants and threatens the population of the park.
The 7 Principles of Leave No Trace
Plan Ahead & Prepare
Travel & Camp On Durable Surfaces
Dispose of Waste Properly
Leave What You Find
Minimize Campfire Impacts
Respect Wildlife
Be Considerate of Other Visitors
Tucson Mountain District (WEST): 2700 N. Kinney Road, Tucson, Arizona 85743
Rincon Mountain District (EAST): 3693 S. Old Spanish Trail, Tucson, Arizona 85730
Have a great day,
TonyRay 🙂