Phone: (520) 621-4516
Website: https://flandrau.org/
Address: 1601 E University Blvd, Tucson, AZ 85721
Google Reviews
It's a busy Saturday; after helping several people with real estate, Darren and I sit down at a restaurant for dinner. Darren read in the news that scientists were saying that space is time and time is space. Something I've always tried to wrap my mind around, especially being a science-fiction/Star Trek fan.
I love those shows for challenging the way I think.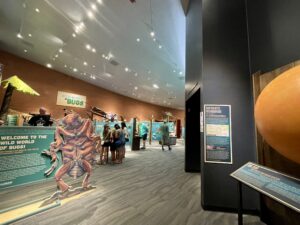 So flash forward, our discussion ends up talking about black holes and where they may lead. This directly coincides with scientists discussing the event horizon, where they believe that space is time and time is space.
Sunday morning, we get the day off, and Darren says we should find something fun to do. I haven't been to the Flandreau Science Center & Planetarium in many years, and I've been wanting to go for a long time, so I made the suggestion. Darren was in, and we looked up the shows. Black holes were the very first show of the day. Of course, we were interested.
The show did not disappoint. It was about 40 minutes long. I really enjoyed the presentation and how they brought the new information to light. It's amazing what I thought I knew about space but did not. The discoveries in the last several years are just mind-blowing.
Whatever show is playing at the UA Flandreau Planetarium, I suggest going to see it whether you've been there recently or not. Before or after the show you may want to spend an hour in the science center. Note: there are two levels to explore. Don't be afraid to act like a kid and play the games. Darren and I chased a shark underwater in a video game machine. It was a blast.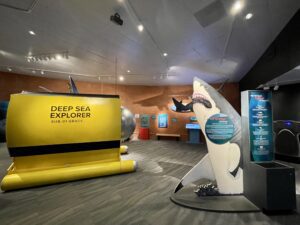 Speaking of kids, the kids there seem to really enjoy the bugs and sharks' interactive learning areas.
Tip: Make sure you give yourself plenty of time before you leave to get there and find parking.
I highly suggest that you look at the parking available on their website or Google before you go.
There are lots of other fun things to do at the UA campus if you want to make a day of it. You could plan to go see the lab that built one of the largest lenses ever built.
It's underneath the UA football indoor stadium.
Centennial Hall is also great for shows.
And you may want to check out the photography museum.
Visit Flandrau Science Center and Planetarium
The Flandreau Planetarium in Tucson, Arizona, opened in 1975. The goal was to increase public interest and awareness in science and astronomy. Over time, the planetarium became an integral part of many areas of science including Optical Sciences, Lunar and Planetary Sciences and technology.
Looking for something cool to do indoors during these hot summer months? Let us recommend the Flandrau Science Center & Planetarium. Located on the beautiful University of Arizona campus, the planetarium is so much more than just a planetarium. It's an adventure.
Education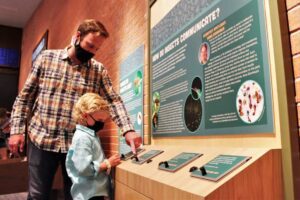 Flandrau is an amazing facility, and being located on a college campus, of course, there is an emphasis placed on education. There are currently seven science exhibits available for you to peruse. Many are interactive, so if you're bringing your little ones, they'll really enjoy getting to play around. 3 exhibits are about space, and 4 are about the amazing planet we live on.
Adults: $9
Children: $7
Other discounts are available.
The Planetarium
Get ready to be wowed, there are so many shows you may have a difficult time narrowing down which to see first. There are 2 shows aimed at younger audiences, 9 for general audiences, and 2 for adults only (due to music and lyrics.) If you're a fan of Pink Floyd, you won't want to miss the Dark Side of the Moon show.
Explore our planet or sail off into the stars, all from the comfort of soft cushioned seats and climate-controlled central air. Whether it's bringing your kids or a date, you won't be disappointed.
Adults: $9
Children: $7
Other discounts are available.
The Observatory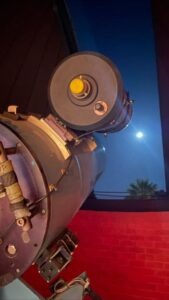 As if all of that weren't enough, you can also use the observatory to look out into the night sky. Volunteer astronomers will guide you through using the 16-inch telescope and point out areas of interest. Make sure to check the viewing schedule before you go. Inclement weather and other unforeseen circumstances such as staffing may change the schedule.
FREE to all.
Make sure to check the website for parking and directions.
Laser Show
Many people who lived in Tucson in the 1980's probably remember the laser light shows offered at the Flandreau Planetarium with great fondness. It was a technologically and aesthetically fantastic show to see and people came from all over the country to see it. Over time, focus was taken away from the laser light show, and it was eventually phased out.
Fast forward about 10 years and the Flandreau Planetarium has brought back the majestic and artistic laser light show (YEA!!), which was sadly absent from their scientific repertoire for a decade. Seems like public demand finally won out.
The laser light show was a main attraction. Without it, leaders realized that interest in the planetarium would continue to decline. So, they decided to update the show and bring it back.
When you head over to check it out, you will see a spectacular laser light show set to music (currently: Pink Floyd's Dark Side of the Moon) in their closed theater. Additionally, they have exhibits to see (which are included in the price of admission).
The Flandreau Planetarium is located on the northeast corner of University Boulevard and Cherry Avenue in central Tucson.  After 5 pm Monday through Friday, and on weekends, metered parking spaces on and around the University of Arizona campus is FREE. There are also parking lots and parking is available the U of A Cherry Avenue Garage. We have ventured down there on several occasions and sometimes the parking in the garage is also FREE. Admission rates:
Laser Light Show Admission (includes exhibits)
Adults: $10
Children (4 to 15 years old): $7.50
Children under 4 years old: Free
Cat Card Holders and Arizona college students (with ID): $7.50