In the 70s, 80s, and 90s many of America's biggest city downtowns were abandoned and neglected as the buildings started to decay people and businesses started moving out. In downtown Tucson AZ the exact opposite is now happening and the revitalization all began with one old train depot.
Downtown Tucson AZ: 30 Years In The Making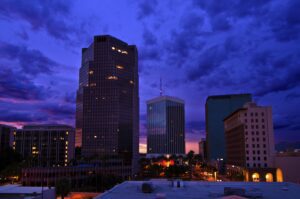 Well, even though it seems like a lot of what we've seen happen in downtown Tucson happened kind of overnight. It's really been like 30 years in the making. People have been working for a long time to work out a viable downtown for Tucson because it did get to a point where there really wasn't a good reason to come downtown. However, with some private funding and some positive individuals, a lot has happened over the last five to ten years. We're seeing a lot of development in Tucson has now become a real center and a model for that trend across the country.
This is a prime example of some of the development this happened downtown Tucson AZ. Maynard's Market was certainly not here. The café was not here. It was a basic train station. The building was not great. None of the infrastructure the parking everything that you'd see out from the streetscape now, none of that existed. So they've created this beautiful park-like setting and in the evenings you come out here you can have a nice cocktail you can have a snack dinner with friends.
They put out the heaters if it's cold and you have this great environment. You have the beautiful Amtrak train station and the market. It's a great space for craft shows and other types of events.
Downtown Tucson Growth Linked To Tucson Streetcar Development
Providing the bridge that links five unique districts together – Downtown, Mercado San Agustín, Fourth Avenue, Main Gate Square and the University of Arizona – Tucson's Sun Link Streetcar has become the catalyst for Downtown Tucson's dramatic growth. Running along a 3.9 mile route with 23 beautifully developed stops complete with public art, this is the perfect way to frequent the myriad shops, theatres, and nightclubs found along the route.
Check out the streetcar for your next excursion into Downtown Tucson!  It will get you within walking distance of hundreds of Tucson's most iconic restaurants, museums, shops and entertainment venues.  Even better, if you happen to live in the new and historic residential neighborhoods found in Downtown Tucson, the streetcar might be all the transportation you will ever need!
Downtown Tucson AZ: Hotel Congress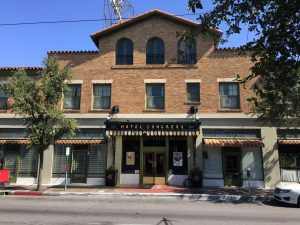 The Hotel Congress has been here for many many years. It's probably one of the old well, it's the oldest continuously running hotel in Tucson. It's mostly famous for having captured the Dillinger gang and so, you know, though it was a thriving hotel back in the 20s, it's still operational today, and it's a great central point.
They have a great breakfast there. They have a nice lounge area there. So with the light rail which landed around four years ago, the city came back to life with new chefs and new excitement with new retail and there's you know, restaurants that have all different flavors and craft cocktails.
So if you're visiting Tucson and you need to come downtown. You need to see the Congress Hotel, you need to visit some of the great restaurants. You need to visit our museums. And also we happen to be an award-winning festival city. We tied this last year with Abu Dhabi. Okay. So, you know, there's a lot going on. We have the International Gem Show. We have so many festivals throughout the year, check your calendar.
Downtown Tucson AZ: The Mercado Neighborhood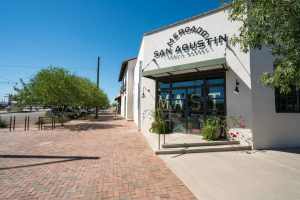 The Mercado is a concept of a European community that is in the heart of Menlo Park. There was a lot of vacant land and it was decided that they would build a community. It's a new type of a community where you have housing you have million dollar homes $700,000 homes. There are condos and townhouses and there are apartments.
There are many structures that are in the state of being built now.
The Annex has just open which is a concept marketplace, which is done with the train cars, the storage cars that you put you carry on the train. Everything has been designed because they want seniors there, they want high income, local income, middle income. They want everyone there. The Mercado, the original building that people would consider called the Mercado is actually the marketplace and that has 13 retail outlets with the beautiful restaurant and a little bakery in a coffee shop and really nice stuff in there.
It seems like a very European style village and you'll see that because it's work play, walking streets, very similar to being in Barcelona, it felt like this Mercado, these houses feel like that. The architects on some of these homes are from Italy and Greece and different places. So you'll feel their flavor there and it's really nice.
Downtown Tucson AZ: Mary Lou's House In The Mercado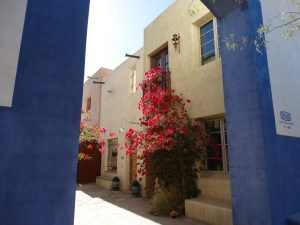 And we've drawn people here from every age group, every family combination who are interested in history and art but the buildings are all patterned after buildings in central Mexico and Europe and the builders have been to all these places and they get their ideas. My house is over 2,000 square feet, but I have one bedroom because that's all I need. So we don't build more than what we're going to use in here. It's all about people in here and we have a lot of ancient celebrations in here.
So it's exciting to live here. It's not the normal neighborhood but its kind of has a flavor of what neighborhoods used to be like where everyone knew their neighbor by name and the dog's name their kid's names and that doesn't tend to exist much anymore. But we're recreating it here on this historic piece of land.
Downtown Tucson AZ: A House Near The Mercado
We're seeing because of all this fun stuff happening and all the new resurgence, people want to live here and they're coming into these old neighborhoods that have been sitting here actually just ignored for years and they're coming in now and they're seeing that there's value here. Come on in see. I'm going to show you a beautiful house that's about a block from the Mercado. This house has been completely renovated.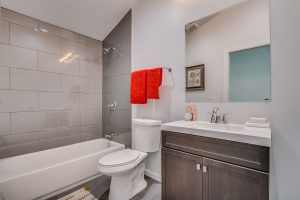 From the ground up. I mean everything is brand-new. This was an old hip roof Bungalow from the 1930s. It looks like what it does now, which is really cool. The builder wants to keep the Integrity of the neighborhood. So he's staying with the design of the original home. So the owner had the idea to get a metal artist to come in and she wanted a Feng Shui, beautiful feeling to the property.
She had the idea with him to create what you see right now. Which is the metal front so you can see a very grand open great room when we walk in and then a split where you see bedroom to the right and the bedrooms to the left. Kitchens open. I love the kitchen. It's bright and open. It's part of the room. You're going to see some very cool designer pops of orange.
That the owner has put in there and the dining room is part of the kitchen. There's a place there for gathering guests. They actually gut it out the master bath. They took that and made that a beautiful walk-in shower. So it's very convenient for the people living in that suite and the guest bathroom is also pretty as well. This is just one example here of something that's just really extraordinary and you can see that the owner just put so much love into this already and we're seeing this happening one after another.
Have a great day!
Tony Ray 🙂