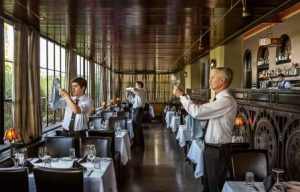 Maynards Market & Kitchen
311 E. Congress St.
Tucson, AZ 85701
(520) 548-3741
Facebook & Website
Maynards Market and Kitchen is actually a twofer.  While the market is popular for the downtown and lunch crowd it is actually a working market for grocery shopping, a gourmet shop and wine bar, hot coffee or a to go box deli style lunch. The Kitchen however, is a wholly different thing altogether.  The evening crowd queues up in anticipation of succulent fresh oysters, Steak Tartare and Hudson Valley Foie Gras.  This is an experience reminiscent of fine dining in a first-class train car.  Diners may enjoy dishes such as the Pan Roasted Duck or Riesling Braised Lamb Shank or should you prefer a fish course, try the Whole Grilled Trout.  Enjoy a bottle of fine wine from the cellar and don't forget to save room for the Duo of Wine Poached Pears or Sweet Potato Beignets.  Oh, Tucson, The secrets you keep.
Meet Me at Maynards
Something else unique about the restaurant is the "Meet Me at Maynards" event. On Monday nights they have a free 2-mile run/walk around downtown. Bring your friends, bring your dog or come by yourself and meet new friends. There is also a little Farmer's Market at the same time. You can find more info here.