When we think of Tucson 3 words jump to mind. Food, sunsets, and hiking. As luck would have it you could do all 3 in a single day if you want. Eat your way through the yummiest 23 miles of food then go hiking to put all those calories to good use. Your reward will most likely be a spectacular sunset. But let's be honest, you can throw a stone anywhere and have it land on a hiking trail so how do you narrow it down? Relax, we've done it for you. Here are our choices for the 5 best hikes in Tucson.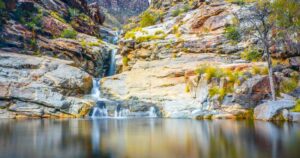 1. Seven Falls Hike
Seven Falls is hands down consistently rated one of the most beautiful hikes in Arizona, not just Tucson. Located in Sabino Canyon this moderate 9-mile hike will require lots of water, think camelback instead of a bottle. We'd also recommend bringing water shoes along since there are at least seven chances for you to get wet during your trek. The big watering hole at the end is an attractive draw so you might want to consider heading out early to beat the crowds and the heat. There is a small fee and a tram available to you at the hour. 
2. Tumamoc Hill
Don't let the name trick you, Tumamoc Hill will absolutely feel like a mountain the first time you take on this 3 mile switchback queen. This easy to moderate climb is all uphill till the top. Being located not too far outside of downtown it's a favorite choice for those who don't want to venture far from Tucson, as well as for solo hikers. It's a well-populated trail and due to the fact that the hill is on University of Arizona land, it's one of the few trails that allows hiking at night. Be warned, parking can be hard to come by so if you're on a tight schedule leave earlier than you plan. Once you reach the top the city view is breathtaking, even more so if you're there at sunrise or sunset.
3. Romero Ruins Interpretive Trail
This trail is great for the absolute beginner or if you're introducing children to the joy of hiking. There is very little elevation change so you won't lose your breath, and the whole route is less than a mile! You can even bring your dogs provided they remain on a leash. This trail is in Catalina State Park so there will be a nominal fee for entry. Romero Ruins comes with a bonus, educational plaques are posted throughout the trail filled with info about the surrounding flora and fauna making it a truly great family choice.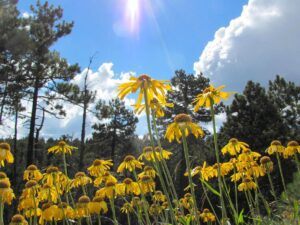 4. Meadow Trail
If you want a beautiful drive to go with your beautiful hike, then head to Meadow Trail. This relaxing 2-mile trail is located on Mt. Lemon and provides with spectacular views the whole way up. Mt. Lemmon is a part of the Coronado National Forest so there will be a small fee for parking or you can use your National Forest Pass if you have one. The weather up there is also much cooler so no need to fret if you get a late morning start. When you're done with your hike reward yourself with mouthwatering fudge or cookies from the confectionary shop at the top!
5. Ventana & Esperero Trail
We hear you. "But I'm an experienced hiker, what do you have for me? The Ventana Esperero Trail is our answer. This hike is a little over 13 miles with an elevation gain of 4609 feet and isn't for the faint of heart. There are a lot of steep and technical climbing though the view from "the window" is amazing if not hard-won. Do NOT attempt this hike alone, in fact we recommend you have a digital hiking guide to help keep you on the trails. Fill your camelback with water and your pockets with at least 1000 calories. Bring a friend but do not bring children or pets. If you can complete this hike then our hats off to you.
Now that we've narrowed it down start planning!