Arizona has beautiful weather 9 months out of the year. Within that 9-month window, the state is flush with activities like hiking, bicycling, horseback riding, swimming, and mountain climbing. Do you know what all those activities have in common and require? The beautiful, great outdoors and, believe us, we have plenty. Let's take a look at Tucson's open spaces.
The Hard Facts
The Tucson Metropolitan Statistical Area (MSA) ranked 5th back in 2016 among other Western MSA's. 29% of our land is made up of federal recreational land which is more important than you might think.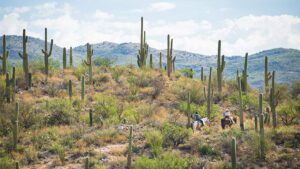 Time and stats have shown that outdoor recreational land has several direct benefits to neighboring communities. Having access to outdoor activities and scenic views directly affects amenity-driven developments. It also manifests as better mental health for the overall public, jobs created, and increased tourism dollars. We're talking around 19 billion dollars and over 100,000 jobs to put it in perspective.
We know that Covid hit MSA's almost as hard as it hit our population. In 2020 there was a 25.7% decrease in visitation to national parks and forests. In Arizona, that number rose to a whopping 38.6%. We know that most parks were either partially or fully closed during the pandemic. Now that the state is opening again, we the public need to go get back out there figuratively and literally.
Let's show the land (and the government) that we miss and love Tucson's open spaces. The more we frequent them the more it shows land grant management that we want more of them. More open spaces, more jobs, more money flowing into our beautiful Tucson communities. Forget about being number 5, let's aim for the top and shoot for number 1!!!
If you've never been an outdoorsy type of person, it's never too late to start. Take the time to see the multitude of amazing spots Tucson has tucked away. You can always check out Tucson Parks & Recs or Pima County's Natural Resource Division if you need ideas to get started. Whatever you decide, we know you're going to have a good time.