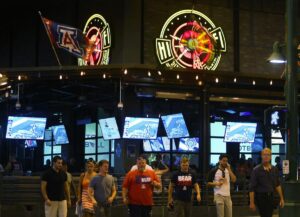 If you've ever been downtown there's an intersection that connects Historic 4th Avenue with Congress Street. Here is where you will find Hi Fi Kitchen & Cocktails, across the corner from Hotel Congress.
History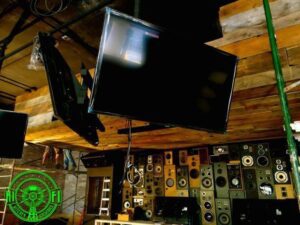 Hi Fi started as a bar up in Scottsdale but then opened a second location here in Tucson in 2014. It has a retro look while still feeling very modern and offers multiple spaces to occupy. Inside the bar, you'll find several large screen TVs playing a multitude of sports games during the day while the outdoor seating allows for more casual dining and some gameplay.
At night Hifi transforms into a banging, music-thumping nightclub. Light shows, live music, and much more. During the school year, University of Arizona students pack themselves in like sardines in the evenings hoping to dance or take advantage of drink specials.
Menu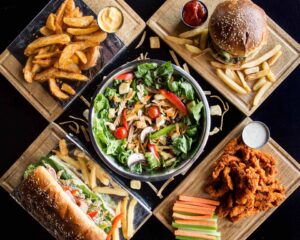 You'll find typical bar fare but on steroids. Besides the standard burger and fries, you will find a giant selection of sandwiches, salads, appetizers, and desserts. And trust us everything tastes as good as it looks. To try everything that catches your eye will take several trips! My personal favorite is the Jalepeño Mac & Cheese and I don't even like mac n' cheese!
And let's not forget about the bar menu, "Cocktails" is in the name after all. Besides the standard liquor and beer behind the counter, Hi Fi offers a bevy of tasty libations beyond your classic cocktail. If you're socializing with friends, you can pick the fishbowl, it serves 5 and comes in 4 varieties. All of them fish-themed. On top of all that they also have 3 Hi Fi signature drinks.
Location
You will find Hi Fi at one of the busiest intersections in downtown where 4th Avenue, Congress Street, and Broadway all converge. So please be careful when driving or walking in the area. You can find off-street parking but it's sparse and you will probably have better luck parking in the Centro Garage right next to the bar.
345 E. Congress St. #101
(520) 207-0861
Hours
Monday          4–10PM
Tuesday          Closed
Wednesday     Closed
Thursday        4PM–2AM
Friday            4PM–2AM
Saturday        11AM–2AM
Sunday          10AM–10PM