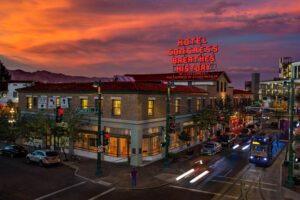 Whether you're new to the Old Pueblo or are thinking of visiting we simply must tell you about Hotel Congress. Located in the heart of downtown Tucson on its namesake street you'll find so much more than just a hotel. It's also a music venue with interior and exterior play spaces and has an amazing café on the bottom floor. In addition to all that Hotel Congress also hosts Blax Fridays, Dillinger Days, a NYE taco drop, and much, much more!
The Hotel Congress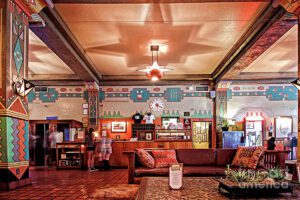 This historic hotel is a landmark of the downtown scene and boasts a certain urban charm. It was constructed in 1919 and has a modest 40 rooms to rent. While the rooms vary in size the vintage vibes are standard. In the rooms, you'll find iron frame beds and rotary phones that connect to an active switchboard at the front desk.
The Club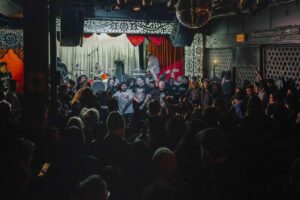 Below the rooms on the main floor, you'll find Club Congress and the Tap Room. There's an additional bar within the club and one more in the main lobby. The club hosts all kinds of events and is a favorite among college students and snowbirds alike due to the variety. It should be noted that noise bothers you, this may not be the place for you. As many of the rooms are directly above the club if you need something quieter make sure to mention it when you book your room. Earplugs are always available at the front desk.
The Cup Café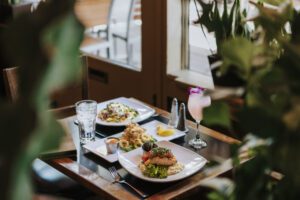 This beautiful cafe is also located on the bottom floor of the hotel and is often overflowing with customers. We heartily recommend making reservations. Besides those staying in the hotel proper, The Cup Caffe is a destination in Tucson. Sure you can get coffee but you will be missing out on some tasty dining if that's all you get. Along with standards like 2 eggs any style, it has a good assortment of local favorites and seasonal cuisine.
Hotel Congress
311 E Congress Street
520-622-8848