This is going on the market this afternoon and it's a flash sale, like a pop up! We just got it this morning so we are putting it up right away, you gotta come see it! This is a 1950's bungalow with two entrances, one of those entrances is the 3rd bedroom. The really cool thing about that is you could put somebody in there as a roommate or a renter. So let's go in, 'm going to show you that bedroom in a few minutes.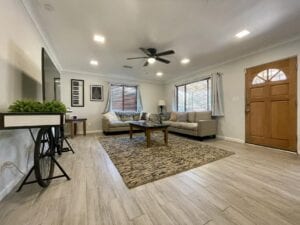 This Bungalow was completely remodeled just at the beginning of this year, we've been waiting for it, we are so excited. It's got a beautiful large living space. As you can see it's furnished right now, it's being used as a AirBNB. So this property could be a turnkey vacation rental for you or it's ready to move in. Also, just so, you know, the artwork and all the furnishings are negotiable and can stay with this property if you do want to do a vacation rental.
I love this property because the floor plan makes it very versatile. You can have a roommate easily because of the split bedroom, you could use this as a vacation rental. You could use it as a second home, it could be a long-term / short-term rental. There's just this is a great floor plan. I also love that it's a double red brick, it's solid build. You don't find these very often in this condition. It also has a big property in the back with covered parking and storage and with and a patio we're going to show you that as well.
The kitchen has been remodeled right at the beginning. That means the appliances are newer. Everything in here is newer. This is a really cool feature to me, if you're in the living room or you have guests, all you have to do is hop over here, grab a soda. Or as Marta would say, una cerveza. Then you can pop back over there, and you don't have to get involved in the kitchen. So if someone's in here cooking, you're not interfering, which is really, really cool.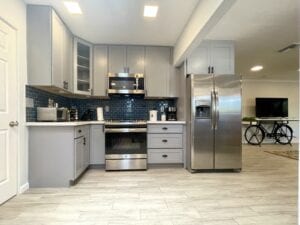 The kitchen has gas, which I love, it has a built-in microwave, it does have a dishwasher which is also something you don't find a lot in these older homes and I love a kitchen with a window when you're doing dishes or your cooking, I just really like the light. They did install Solar Tubes. Those are in the ceiling. You can see the extra light pointing down, so you but they don't be lights in this house during the day, so it's really awesome. They also did the new upgraded flat square lighting, which I also love. It brings a touch of modern to this property.
Down at this side of the house, you have two bedrooms with closets and Marta is going to walk you over there, you're going to see that they're generous in size. Both of the bedrooms would fit a queen-size, or a king size bed. And still have plenty of room for a dresser or sitting chair, or whatever you need. One of the other cool things is they have semi walk-in closets. so, I can literally walk inside this…
Really cool, right? These little old houses, usually have little tiny… How do you say it? They are very generous compared to other 1950s homes, they have a little teeny tiny door with a little teeny tiny closets. Yeah, these are good size.
It has a linen closet in the hallway. And then you have a beautiful second bedroom and again, I can walk in this closet. It's actually got great space, I'm all they way back here. So if you put double racks across both sides here, you can fit a lot of clothes in this bedroom, nice, right? Love this house.
I love the calmness of the decor, it certainly feels really nice in this house. This bathroom was also updated. As you can see, it's got a tub and the shower. They also put a solar tube to create light for this bathroom. I think I want to do that now at my house and these are Bluetooth speaker systems which are really cool, so you can play music while you sing in the shower.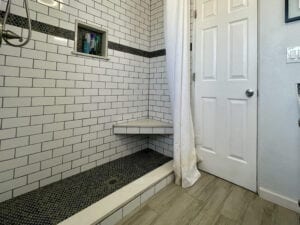 Bathroom number two is the same. We have a completely remodeled bathroom over here. This is a walk-in shower and it's beautifully tiled. I really like what they did with that. They even went to to the point of putting seating in the shower at, for shaving your legs or just taking a rest, I suppose. Also great to wash babies and dogs.
If we go over here, there's a bonus room on this property, and this is perfect for an office or a yoga room, it's great Flex space. You can do anything with this. It could be a guest bedroom since you don't need a closet for a guest, typically. If you need a closet for guess, they're saying too long. That's my theory. So this can be a really great room. I can see having a Murphy bed here and then making it an office or combination or something. It also has an entrance out to the patio in the backyard. So that's another really neat part of this room. So, let me show you the other the last bedroom and then we'll go outside.
This this originally was most likely a carport because there is a step down. It has been remodeled and converted into a laundry room and a bedroom with its own private entrance. It's a good size laundry room, lots of light in the laundry room, which I love, and you could do a lot with this, because it's got storage and it's got lots of space.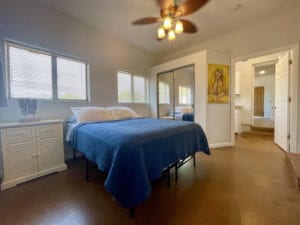 Then we have this bedroom again, a good-sized closet and a very nice size room. A king-size bed would fit in here very easily. I love this room because of the double windows, I like a lot of light. There's also windows on this side and, this is really cool because, you've got an entrance to the outside. This is back at the front where we started.
That is really cool because you could have a guest stay here or a roommate or somebody who needs their own entrance, which is neat. I don't suggest teenagers live in this room. They could run away, they can get into trouble.
We're going to go back out there and I'm going to show you the outside. One of the neat things about this property is it's got a big spacious lot. And you gotta love it because there's a good-sized front yard, but the backyard, you can do so much with. And if you've got toys or campers like we do, you want to park those with your cars. You've got plenty of space inside these gates.
This is a really cool little patio right here, so you're covered. Then you can see, over there, you've got a storage shed in the back. You've got two-car carport, you could easily fit, wow you could easily fit a couple campers, a boat, Sea-Doos and still have your pool. So I think then you would just add some privacy to the fencing and you're all good to go. So that's what we would do.
This area is permit street parking. So your guests, you give them your permit. If you're living here, you'd get a permit to put in their windows. The cool thing about this property is it actually has plenty of parking for guests, so that's nice too. If you want to have a little get-together, you don't have to worry about the permitted street parking.
We're super close to the U of A, so this is a great house for a rental if you have a professor or students or somebody who wanted to go to the UArizoa. Or Banner Hospital is down the road. The location is fantastic just from the fact that there's so much around here.
We did this on the fly because we want to get this out to you right away because we are going to list it this afternoon, we have paper signed, we're getting photographs and video done right now, and we are getting ready to go.
Call me and (520) 631-TONY (8669) and I can get you in ASAP or call Marta, what is your phone number Marta? (520) 265-5625 So if you speak Spanish and you need a Spanish speaker, you just think she's prettier than me. Whatever then call Marta!
Let's finish off in the great room so you can get a feel for this one more time, it's a lot of house to take in. Three bedrooms, two baths, extra bonus room, covered parking, large lot for lots of toys and guests and it has been remodeled and it just was finished at the very beginning of this year. If you have any questions, call me I'm Tony Ray with RE/MAX Select. Thank you so much. I hope you guys have a great day!
More Amazing Photos of 1107 E. Lester Tucson, AZ 85719