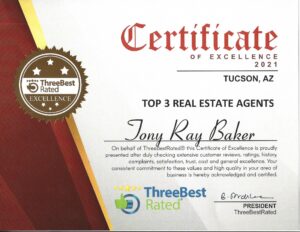 The real estate industry is constantly evolving. Realtors must keep up with the latest laws and bring new marketing and advertising techniques to the industry every year based on consumer demands. Agents with experience shape the real estate sector and influence the direction of its growth. So, what are the emerging real estate trends to look for in 2021? Let us learn about it from a 2021 ThreeBestRated® award-winning realtor.
Tony Ray Baker is a ThreeBestRated® award-winning real estate agent from Tucson, Arizona. He points out a few emerging trends that influence the real estate sector in 2021:
More listing agents are adopting 360° virtual tours and video walk-throughs.
Likewise, more buyer's agents prefer virtual live showings.
Many creative clauses to Help sellers negotiate a more risk-free move in a market with low inventory.
About Tony Ray Baker ThreeBestRated® – RE/MAX Select
Tony Ray Baker is one of the friendliest and most enthusiastic REALTORS® anyone can meet. He has been helping his friends, family, and clients buy and sell properties in Tucson since 1994. He loves every aspect of his job. Tony Ray says,
"Real estate allows me to do everything I love. From Marketing and advertising to negotiations and meeting new people, I find real joy in all aspects of today's real estate industry. It allows me to be constantly learning, challenging myself, and so much more."
Tony Ray is very successful in his field and is into real estate because of his mom. She is the one who suggested that he should pursue a career in the industry. Soon after, Tony Ray realized his passion for real estate and started his journey. After over 25 years, he has grown into one of the prominent REALTORS® in Tucson.
Tony Ray has a proven track record of serving his clientele with fantastic results. He always commits to helping his clients realize their real estate goals. On being named as one of the best real estate agents in Tucson, Tony Ray says, "The Tucson real estate community has a lot of top professionals who truly dedicate themselves to their clientele and their community. It is definitely
humbling to be chosen as one of the three best in Tucson." For more information about him, go to his website – https://seetucsonhomes.com/about/.