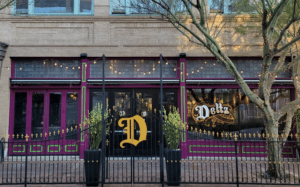 Have you heard about The Delta on 6th Avenue? This restaurant is an unexpected delight in Tucson and boasts something truly different than our typical southwestern fare. We all know Tucson is a UNESCO City of Gastronomy for our amazing Mexican food, which is why it's so surprising to find a southern restaurant set up shop in the downtown Old Pueblo. It took over the space previously run by Janos Downtown Kitchen.
Darren and I stopped in for dinner at the end of January and we were blown away. As soon as you enter it's rock n' roll meets New Orleans and voodoo. The walls are displaying all sorts of art, I think I saw a black unicorn head on the wall! It is absolutely worth taking the time, after you've had a cocktail, to look at everything they have on display. You'll find hidden messages and some other fun stuff.
The Food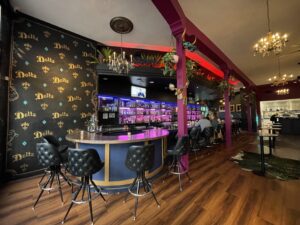 The food isn't like your usual sit-down restaurant where everyone orders something big, think honky tonk tapas. But don't worry, these small bites have big flare and flavor. We ordered the Giant Chicharron which came out looking like modern art, delicious modern art you can dip in chimichurri sauce. We also enjoyed the Chilled Louisiana Shrimp,  they have a lot of seafood dishes you rarely find around Tucson like smoked oysters.
You absolutely have to try the steak tartare, it's one of their delicacies and is really the only steak tartare that I like in Tucson.  For something even more out of this world, check out the cherry pickles! That's right… cherry pickles 🙂  It might sound like a weird appetizer, but each ruby red pickle spear tastes just like a pickle but finishes like a cherry, it is truly out of this world!  Kind of like pickled cherry pie (which can be found on the desert menu).
Lastly, for the perfect snack food, check out the rosemary basil popcorn.  Get a group together and order a few bowls of popcorn to whet the appetite before the main course, a succulent standing roast.  This roast is stunning and absolutely delicious, with the meat falling off the bone.  Pair this with any of the shareable entrees and you have the perfect group meal!
Custom Cocktails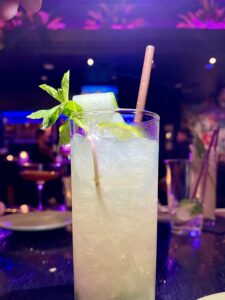 On their website they boast "damn fine drinks" and I have to say we agree with them. I like spicy things and the Miss Nellie's Veranda does not disappoint! Look at these ingredients, house-infused cucumber gin, Genepy liqueur, Absinthe Ordinaire, vanilla & black pepper syrup, creosote, and clove mist… who knew that black pepper syrup is tasty?
You may have noticed that absinthe is an ingredient. Not only is it an ingredient to many drinks but they even have an absinthe fountain complete with the sugar cubes and slotted serving spoons. This absinthe is the real deal and contains the previously illegal component wormwood. Please make doubly sure that you have a DD if you plan on partying old-world style.
Divine Desserts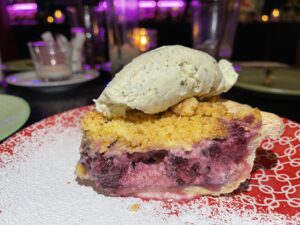 To round out our amazing visit we ordered the Bougie Donut and the Pickle Berry Pie. The donut was good but we were completely taken by the pie. I know about cucumbers and eggs being pickled but I've never spared a thought about pickling fruits.
We expect Mardi Gras to be big at The Delta this year, and hopefully, many years to come. But don't take our word for it, go check it out yourself and let us know what you think!
Media Gallery