It's that time of year again where it's hot hot HOT! We know most Tucsonans prefer to stay inside during the summer months, however, the Tucson Botanical Gardens has an ongoing event to tempt you out of the house. Enjoy the gorgeous gardens along with your furry best friend at the Dog Days of Summer!
From June through September the Tucson Botanical Gardens opens up their desert oasis to you and your Fido from 7:30 AM to 3:30 PM daily. The gardens are conveniently located midtown near Grant and Alvernon, so wherever you're coming from it's not too far of a drive. You can literally spend hours walking the lush pathways with your canine companion. If you need a break there are plenty of benches to pause at or you can grab a bite to eat from Café Botanica.
The Details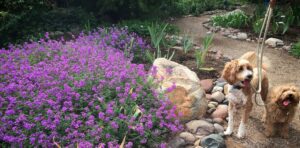 To attend all you have to do is pay your human admission of $15, (students, seniors, and military are $13), and an additional $3 for your pupper. If you're already a member then your admission is free, as usual, you just pay the pet price. But, if you're a huge fan of the Tucson Botanical Gardens like we are you can purchase a dog membership for the summer!
That's right, for $20 your dog can have their own membership with unlimited daily admission to the gardens. Dog memberships also come with a personalized tag for the collar of your pet. Additional dog memberships are just $10 so you won't break the bank if you have a large furry family.
Dog Days of Summer: Before You Go
There are a few rules to visiting the Tucson Botanical Gardens with your furry friends. 
Only well-behaved dogs are welcome, if your pooch is anti-social, please leave them at home.

Dogs must be leashed at all times.

Stay on the designated pathways. We know it's tempting to let your pet sniff to their heart's content, but for the sake of the vegetation please don't let them.

Bring doggie bags to clean up after your dog, it's just a considerate thing to do.

Water bowls are provided, no need to worry.