Redington Pass
Coronado National Forest, AZ 85641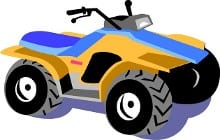 There are many great hiking trails in Tucson, but Redington Pass offers a unique opportunity to not only hike, but also to go mountain biking, camping, and even four-wheeling! Located between the Santa Catalina Mountains and the Rincon Mountains, just a quick drive out East will let you escape the heat and noise of the city and enjoy our beautiful desert. The pass is about 13 miles long and is a beautiful slice of what the Tucson area has to offer.
Whether you are just going for an afternoon or a whole weekend, going to Redington Pass is a great thing to do in Tucson for nature lovers and thrill-seekers alike. The pass contains miles of rugged ATV and motorbike trails with no entrance or parking fees. The Tucson Rod and Gun Club are petitioning to make portions of RP an official shooting range as well.
Redington Pass lies along the San Pedro River, which swells in the summer during the Monsoon, giving life and color to the desert plants. It is one of the best places to experience Tucson's incredible starry night sky. Bring a blanket though; it gets cold as soon as the sun goes down! That's Arizona weather for you.
The hiking trails in Redington Pass are great for all different levels of hikers. Bring plenty of water and snacks, or even take a picnic lunch to enjoy on one of the many scenic outcroppings on the trail. If you're a horse-lover, Redington Pass is also a wonderful place to go for a ride!