Mission San Xavier De Bac
Mission San Xavier Del Bac is lovingly referred to as the "White Dove of the Desert." Located 9 miles south of Tucson via Interstate 19, this active Franciscan mission is located on the Tohono O'odham Indian Reservation, and was founded by Father Eusebio Kino in 1692. It is the oldest intact European structure in Arizona.
Locals refer to the church as San Xavier Mission. Tucson natives and visitors alike visit Mission San Xavier Del Bac by the hundreds of thousands every year. The mission is open to the public daily from 7:00 a.m. to 5:00 p.m. You may want to call ahead to make sure it's open on the day you want to visit. The church does shut down to the public for funerals, weddings, anniversary masses, etc.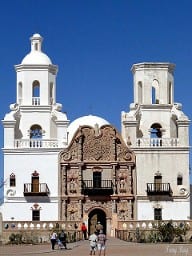 When you visit Mission San Xavier Del Bac, you will feel like you have taken a ride in a time machine. The architecture and cultural history that is so evident in the structure is amazing. There is no admission charge to view Mission San Xavier Del Bac. Visitors are asked to be respectful of those who are there to worship, as it is still a fully functioning catholic church.
Inside the mission, you will see amazing statues, murals, and other period details that add to the old-world atmosphere. It's an interesting place to visit, to walk around, and look at something that is 100's of years old and has been maintained beautifully. Mission San Xavier Del Bac is just a few minutes from downtown Tucson.