Fort Lowell Park & Ruin
2900 N. Craycroft Rd., Tucson, AZ 85712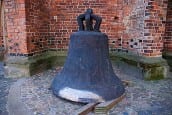 You may know Fort Lowell because of the Greek Festival. Here's another reason to know it. While Tucson has an abundance of parks for the family to enjoy, none is as unique as Fort Lowell Park. The park itself is pretty typical, with soccer and ball fields, a swimming pool, tennis courts, playgrounds. And as a bonus a duck pond!
Local History
What makes Fort Lowell Park unique is that it rests on the historic location of the Fort Lowell military installation. It was built to protect the city of Tucson from the nearby Apaches. Some of the original adobe structures still stand on the Fort Lowell Park property. The rest are being slowly reclaimed by the earth.
While you are visiting Fort Lowell Park, have the kiddos take a short break from playing to visit the museum. It houses the former commanding officer's quarters. Here you will find artifacts from military life in the territorial days. Learn about the long story of the site's history as a military outpost. You can even try to imagine which parts of Fort Lowell Park once housed various buildings. Where livestock was kept. Where marksmanship was practiced, and the other original uses of the land.
The museum is $3 for adults, $2 for adults over 60, and for children ages 12-18. Children 11 and younger as well as Arizona Historical Society members are free. The museum is open on Fridays and Saturdays from 10 am-4 pm. You will have to plan your visit to Fort Lowell Park accordingly if you want to incorporate the museum. If you can't fit the museum in, Fort Lowell Park is still a great place to have a picnic, and let the kids play for a couple of hours. No matter how you plan your trip we are sure you'll enjoy it!