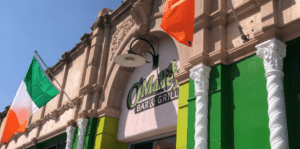 O'Malleys Bar & Grill has been a staple for students and year-rounders alike. Located near the south end of 4th Avenue it has withstood the test of time when so many other businesses in the area came and went.
The History
O'Malleys, you guessed it, is an Irish pub established almost 20 years ago in 1993. It is considered a pub, a sports bar, a dance club, this place wears a lot of hats to be sure. It's also deceptively large. When you approach from 4th Avenue and enter it appears like an average bar, but once you get further in you will find generous outdoor seating and a second bar and dance floor up a small flight of stairs.
The Menu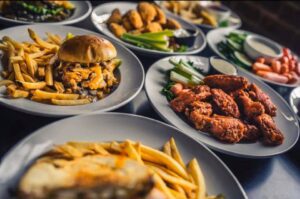 Even though the name is O'Malleys you will not find any Irish food here I'm afraid. Their menu mainly consists of typical American dishes like burgers and fries. Despite Tucson being a City of Gastronomy for Mexican food only the nachos, quesadillas, and fajita hoagie even hint at its inspiration.
They do have plenty to drink, both on tap and from a cocktail menu. So, whatever you are looking for there is a good chance you'll find it. Yes, you can find the Irish Car Bomb, don't worry about that.
The Atmosphere
This pub has two faces. During the day she's laid back, bright light streaming in. You'll find some regulars having a brew watching sports on the screens as well as visitors just popping in for a bit of lunch. O'Malleys feels like an old friend when the sun is shining but when that sun goes down is when it gets crazy.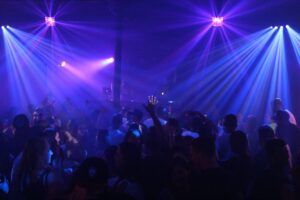 At night, especially during the school year, students pack the place occasionally to the point of standing room only. There is a rotating calendar of events including Karaoke as well as live music. All you need to do is decide which atmosphere you'd like to be in and choose accordingly.
Logistics
There is meter parking on the street, but it switches to free after 5 pm during the weekdays and free on the weekends as well. There is also a city pay lot a very short walking distance from the bar itself (which was once O'Malley's main competitor, Malony's.)
247 N 4th Ave, Tucson
(520) 623-8600
Hours
| | |
| --- | --- |
| Monday | 4PM – 2AM |
| Tuesday | Closed |
| Wednesday | 4PM – 2AM |
| Thursday | 4PM – 2AM |
| Friday | 4PM – 2AM |
| Saturday | 1PM – 2AM |
| Sunday | 1PM – 2AM |