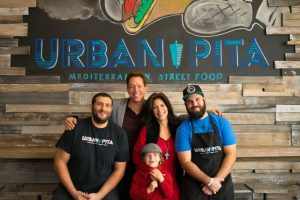 Urban Pita
345 E Congress St #135
Tucson, AZ 85701
(520) 332-2294
Website & Facebook
We love Urban Pita!  Located on Congress St, next to Hi Fi, they have the go to late night snack menu. Say hello the owners Jeff and Freddy.  Most of the time, they can be found, making customers laugh and enjoy the experience.  The rest of the time they are making sure everything is running right and mixing up their own recipes to bring you the best, freshest and most authentic foodie experience possible.
What Do They Have at Urban Pita?
This fresh new option in downtown Tucson offers up your classic Gyro, Chicken shawarma, salads, amazing tzatziki and the ever fun to pronounce baba'ganoush.  Open for lunch and dinner, it is also open until midnight daily and stays open till 3AM Thursday through Sunday.
Get your pita fix with all the extras hand made on premises.  All the appetizers, veggies, salads, and deserts are made fresh in house and the taste is amazing!  There are no preservatives or fillers here and the taste comes through with every bite.  The move is the meat combo plate!  It offers up a sampling of Gyro and chicken shawarma served with Greek salad, hummus and, of course, pita.
Will Vegetarians Like Urban Pita?
If you are more interested in the veggie side, try the Veggie plate combo with falafel, dolmades served with Greek salad hummus and pita.  Either way you can't go wrong. They have Kosher Gyro, lamb and Beef cone, as well as Chicken Shawarma and veggies.
If you can handle it, try the in house made Baklava.  This is not the soggy sticky gooey stuff you have had before.  This is a tasty crisp and flavorful pastry all other Baklava wants to be.
Eat in or take out, this personal space was designed with re purposed materials from shipping pallets to old pipes, which were used to create the unique tables and seating.  These elements come together to create the urban space the owners envisioned for the trendy urban downtown area.
This is the lunch dinner and after bar stop with the best central location for downtown. I dare you to check it out. You have everything to gain!
Insider tip: They actually have a breakfast pita that is not on the menu and it is awesome! They are located right next door to Hi Fi so that's easy to find. Right! Yassas!