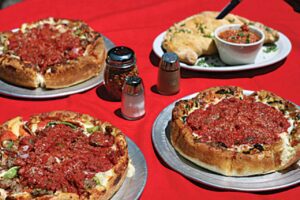 Phone: (520) 321-1860
Website: https://www.roccoslittlechicago.com/
Address: 2707 E Broadway Blvd, Tucson, AZ 85716
Google Reviews
Rocco's has been serving Tucson since 1998. The stuffed crust is crisp and flakey. It crams all of your favorite toppings between two crusts! Huge portions ensure you never leave hungry. The food is simple, and delicious. Make sure to try one of Lisa's Cookies. Choose between Oatmeal Raisin, Peanut Butter or Ghiradelli Chocolate Chip. They are ¼ pound monsters!