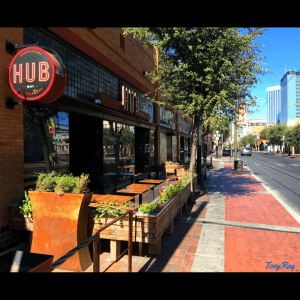 The Hub is a hip downtown restaurant, located right on Congress St. next to The Playground. There is a large restaurant with a full bar with industrial-style decor. There used to be an ice cream parlor inside but success affords them a new separate ice cream-only space across the street. It is called the Hub Ice Cream Factory where you can find a rotating selection of unique, handmade ice creams.
We definitely recommend the ice cream and are big fans of the food too.
Like the big selection of ice cream, the food menu is also expansive. You can find soup, salad, risotto, seafood, steak, and more.
If you are looking for a fun hip place to go that has a diverse menu and something for everyone give this downtown staple a try and make it your hang out.
The Hub Restaurant & Creamery
266 Congress Street
Tucson, AZ 85701