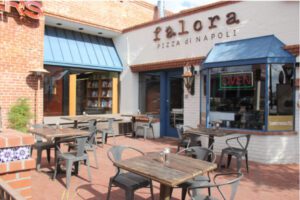 Phone: (520) 325-9988
Website: http://www.falora.com/
Address: 3000 E Broadway Blvd, Tucson, AZ 85716
Google Reviews
Falora hand crafts their pizzas using pecan wood, only. With a temperature of 700 degrees, it cooks in around three minutes, giving the crust a delicious, intentional char. For those who are gluten sensitive, their dough is made daily using Caputo 00 flour, so many people with a gluten sensitivity have been able to enjoy their meal. If you aren't in the mood for pizza, then you can enjoy one of their variety of artisan salads. Fun for the whole family.