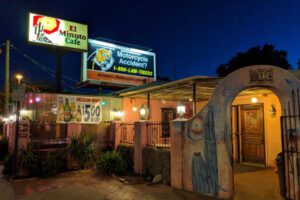 Phone: (520) 882-4145
Website: http://www.elminnutotucson.com/
Address: 354 S Main Ave, Tucson, AZ 85701
Google Reviews
If you're looking for a light, inexpensive lunch, a full course dinner or to cater that special occasion, El Minuto is your place! El Minuto has been serving delicious Mexican food to the Tucson community since 1936. If you don't have time to eat, then make sure to stop in for Happy Hour, Tuesday through Friday, 4pm to closing, for a delicious margarita or Mexican beer!