Eegee's
(520) 294-3333
Eegee's
23 Tucson Locations
One of Tucson's signature businesses and family favorite places to eat is Eegee's. Their frozen fruit drinks (also called Eegees) are the perfect solution to Tucson's dry desert heat! With 23 locations, you can be sure that you are always close to an Eegee's.
Eegee's offers their frozen drinks in Strawberry, Lemon, and Piña Colada year-round. Each month they feature a different additional flavor such as Lucky Lime in March, and Orange Dream in April. Lucy's kids love the Watermelon flavor in July. For a happy hour treat, we recommend mixing some vodka in Lemon eegees, or making one of their "adult" recipes featured on their website like an Eegees margarita!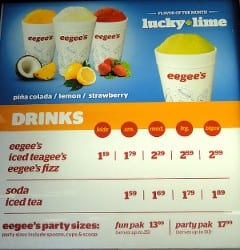 In addition to cooling you down on a hot summer day, Eegees also has a full menu of fifteen scrumptious deli sandwiches. You can order your sandwiches in three different styles, Sub, Grinder, or D-lite. The crinkle cut french fries come with buttermilk ranch dressing for dipping and they are delish! If you are up for an indulgent snack, They also have cheesy bacon fries and chili cheese fries.
Eegee's is by no means your typical fast-food restaurant. It is a must-have for anyone new to the Tucson area, and a favorite thing to do for those returning to Tucson from college or re-location! They are also an active part of the Tucson community. They donate day-old bread and ingredients daily to Casa Maria Soup Kitchen and the Salvation Army.
All locations are open from 9:30am to 10pm Monday through Thursday and Sunday, and 9:30am to 10:30pm Friday and Saturday.