If you ask Tucson music fans and artists alike they will tell you: Tucson is a great music town.
Best Music City: Tucson, AZ
A national survey released in 2016 shows that we're better than great: We are really, really great.
In the list of top music cities in the United States, Tucson comes in seventh overall. Yay Confetti!
In the regional rankings, Tucson is second overall, right behind Austin, Texas — to which Tucson is often compared to.
The Value Penguin does demographically-based consumer lists and this is what they found about music cities in the U.S.:
• Tucson Ranked 7th Overall Nationally
Nashville, Tennessee
Urban Honolulu, Hawaii
Seattle, Washington
Madison, Wisconsin
Austin, Texas
Albany-Schenectady, New York
Tucson, Arizona
*Phoenix-Mesa landed at 103rd overall.
 • Tucson ranked 2nd regionally, right behind Austin and before Tulsa, Oklahoma.
• Tucson tanked to the bottom of the pile though, for having the most radio stations, coming in at 104 on the list of 200 cities
• We are number 39 for the number of record stores.
• Tucson came in 31st for the percentage of the population with music degrees.
The Value Penguin study evaluated 200 metropolitan areas using statistical data from sources including the U.S. Census Bureau, Thrillist, the Burau of Labor Statistics and several media surveys including USA Today and Travel & Leisure.
Here is a PDF of the original article if you'd like to see it.
https://www.valuepenguin.com/2016/best-cities-music-fans
The Tucson Music Scene, from a Local's Perspective
To expand on this article's findings, as a Tucsonan, I can provide you with some first-hand feedback about the music scene. If I were going to describes Tucson's music scene with a movie title I'd name it, Boogy Nights.
From local musicians – to emerging underground artists – to the biggest names in music, you will find it all here.
Geography
Simply thinking about geography, Tucson is a convenient travel stop next to L.A., San Diego, Las Vegas and Phoenix.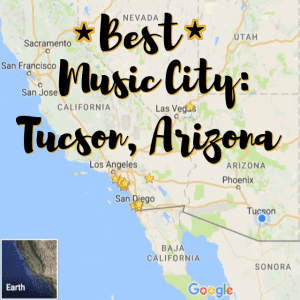 Artists Love the Crowd at Tucson, Unless they Tell that to Everybody…
Not only is Tucson a convenient stop, but artists say they love coming to Tucson because the crowd gives them all "the feels".
This isn't a surprise to me — Tucsonans are friendly, energetic and love to dance. It's a pleasure to be a part of a good community and then to show artists and visitors what we're all about.
Intimate Venues
If big crowds aren't your thing and you are more into the private party style vibe, you'll appreciate how the style is in Tucson. You won't have to fight LA style crowds here and smaller venues = better views.
Tucson Music Venues
One of Tucson's most popular music venues is the Rialto Theater, and it has a capacity of 1,200 people making it a small-big venue. This historic venue is congruent with Tucson in the same way that  Tucson is a big city with a small-town vibe (Tucson's population: 500,000 people).
There are many popular Tucson venues that are a lot smaller than The Rialto, like Hotel Congress, The Rock, Flycatcher, Solar Culture, 191 Toole and many more. Bigger venues are also present in Tucson like the Fox Theater, Tucson Convention Center, Casino del Sol and The Pima County Fairgrounds.
Proximity to Other Happening Places
Did you know that Phoenix is the 6th largest city in America? The drive to get there is easy and simple, a nice straight-shot up I-10 for about 75 minutes will open up another world. Enjoy the happenings and amenities of this big city and then return home to your quiet, safe, better-weathered community (Yes, Tucson has better weather than Phoenix, it's cooler.). When the moment strikes for different adventures, you also have Vegas, San Diego, and L.A. all in close proximity for a road trip or a short flight.
Smaller Town Lifestyle with Big City Amenities
This is what Tucson is known for. It's easy to have the best of all worlds living in Tucson. You get small town community with all the big city action coming straight to Tucson and nearby.
Do you want to learn about upcoming concerts in Tucson? Here's a music meetup group and you can also check our events calendar.
Are you wanting to know even more about Tucson? Do you think Tucson might be a good place for you to live? I am a Tucson realtor with a passion and appreciation for this city. There are many articles on this site for you to go through to learn more and I am happy to help you learn more about Tucson and maybe even help pick out the perfect home for you. As one of the most affordable places to live in the country, home prices are low, making the point-of-entry to own a home actually accessible. There really are some great reasons why you should consider Tucson to build your life, home and business. I'd love to talk with you.
Take care of yourself and if we don't speak on the phone soon, I will see you on the dance floor.
Have a great day,
Tony Ray
(520) 631-TONY (8669)
Free relocation package and Tucson fun info