Hello, today we're going to show you 5655 E Rosewood Tucson AZ 85711.  This is a centrally located home near Broadway and Craycroft, which is one of my favorite locations in town. This home features some incredible landscaping. In fact, it's summertime and I'm standing in the shade of a beautiful mature evergreen.  It's keeping me cool, but I have something even cooler to talk about today!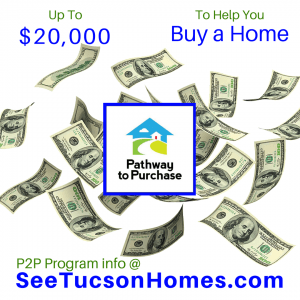 Speaking of green, I want to talk to you today about Pathway to Purchase 🙂 This home, due to the location, is eligible for a Pathway to Purchase Down Payment Assistance program. The program gives you up to$20,000 to use towards down payment and/or closing costs to buy a home. There are a few restrictions and you have to qualify for the loan, but you can call me at (520) 631-TONY (8669) and i'll give you all of that information. This is a program like none I've ever seen in the last 25 years! It's the best one I have ever experienced!
I want to show you a couple doors; we have door number one, which leads to a private guest suite on this house, which can be closed off from the rest of the home inside. Door number two is our front door. I'm going to take you in and we're going to have Darren give you a tour!
This is the ultimate and entertaining kitchen! It has beautiful granite countertops, all of the high-end cabinets are soft-close cabinets and drawers. Fantastic drawer space, cabinet space, lighting, and the entertaining area over here for serving. You have the two sinks,  overhead pendant lighting, bib sink in the front, prep sink on this side. You have the brighter colored and lighter cabinets up in the top so it doesn't feel dark in the kitchen. We have a five-burner gas stove over here, a nice big refrigerator and additional pantry space on the other side.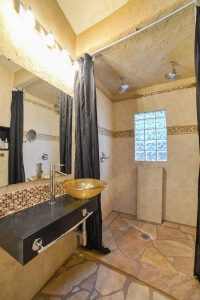 We have two bedrooms and two bathrooms, both remodeled, both beautiful. The master bath is really nice, it's got double shower heads that are rain shower, so they are really cool. In addition to these two bedrooms and two baths, there's the suite i talked to you in the beginning about which is on the other side of the house.
Here we are in the den where we have these high vaulted ceilings, all wood nice neutral palette, great place to hang out watch TV, and don't forget about that guest suite that Tony Ray was telling us about, why don't we go see it!
This is a great guest suite! There's a couple reasons:
There's a private door, so it can be locked from the rest of the house.
It has a large closet for clothes and storage.
There are two to four parking spaces right off the road, which is great in any central neighborhood.
Outside, we have this great patio with flagstone pavers and this beautiful covered area here with lots of seating space and, of course, Tony told you about to the studio garage behind us.  There is also a great block wall that goes around the entire property for privacy, and you can access the garage from the street.
It's an awesome outside area; it's really low maintenance which is what i love about this and it's great for entertaining because of all the flagstone. I want to remind you one last time; we have  up to $20,000 available for you to buy this home with Pathway to Purchase! Give us a call at (520) 631-TONY (8669) to get some of that free money to buy this beautiful home!
View The Entire 5655 E Rosewood Tucson AZ 85711 Media Gallery and Contact Us to Set Up Your Private Home Tour.