Paint Me Happy
I've helped several different clients with low or no VOC (volatile organic compound) paints. Both sellers and buyers.
Most sellers painted their interiors with no VOC paints before we listed their home. I was in one of the homes for a few hours while it was being painted. No Smell. I was also amazed at the lack of odors and the headaches I had experienced so many times before.
We also had the carpets cleaned by an echo friendly carpet cleaning company and used organic cleaning products by Shaklee to clean their homes.
The goal, of course, was to improve the indoor air quality and market as many green features as possible. All of their homes sold faster and at a higher price than any others in their neighborhood. Of course, it's hard to say if there is a direct correlation, but it certainly seems more than coincidental in what turned out to be a very weak real estate market.
One buyer that I worked with was very ill. Before moving in, I suggested the use of no VOC paints. We also had the home cleaned with organic products and stocked him up with Shaklee. He is doing very well and tells me that he is sleeping much better in his new home.
No VOC, It does make a difference.
Below is a document from EcoBroker International. It does a great job at explaining the specifics of Low to No VOC paints. If you have any questions, you can always call me at (520) 631-TONY (8669)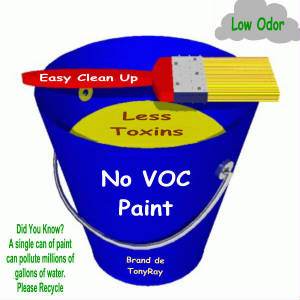 Low VOC Paint
Snapshot & Benefits:
Because low or no-VOC "volatile organic compound" paints have a lower odor and less on air quality than higher VOC-content paints, they are excellent for use in buildings where it is desirable to maintain good indoor air quality, such as hospitals, schools, homes and workplaces.
Recent EPA studies estimate indoor air quality to be 3 to 5 times more toxic than outdoor air largely caused by toxic emissions of paints and finishes. Paint manufacturers realized the need to develop paint that contains lower VOC yet maintain high levels of performance and durability ultimately causing less of an impact on air quality then the higher VOC paints.
The use of low-VOC paint reduces toxins that cause allergy and chemical sensitivities, reduces contaminant concentrations in landfill, groundwater and the ozone, provides easy cleanup with soap and water and produces lower odor. With increased legislation and support from environmentally conscious organizations such as the U.S. Green Building Council's Leadership in Energy and Environmental Design (LEED) and Green Seal plus advances in paint technology the paint industry has come a long way in developing an array of environmentally responsible products with higher performance levels. New paints have become more durable, cost-effective and less harmful to humans and the environment.
Estimated Cost Savings
Low- and no-VOC paints typically cost about the same as a manufacturer's premium line of paints (around $30 per gallon) however, it is important to remember that high-performance paint typically will cost more in the beginning but in the long run "could be the difference between painting once and painting 4 to 5 times in 20 years."
Consider paying the extra cost of buying a high-performance, low-VOC paint as you may not have to apply more than one coat to the surface area greatly reducing your time and overall expense.
"Choosing non-toxic, low-VOC paints in office buildings, schools and hospitals has helped maintain normal productivity within these environments which would be entirely impractical for the occupants to vacate even for short periods of time during a painting project."
Issues
Because of the way low VOC paints are labeled, how they are used, and how they are marketed, it can be difficult for the consumer to determine whether a paint is truly a low VOC paint or not. For example, some paints are labeled "low-odor or something else as opposed to low VOC." Some low VOC paint brands market themselves as Green Seal certified while others who meet certain LEED standards do not have to adhere to the Green Seal requirements. Consumers are often confused as to what standards to follow when it comes to lower VOC paint.
Regional Issues
According to the EPA no national standards have been set for VOCs in non industrial settings. Past efforts have been made by organizations such as the Ozone Transport Commission (OTC), to adopt a national low-VOC level in all paint products. California state requirements that mandate low VOC levels has become the model for the national legislation and has been adopted by many states across several regions.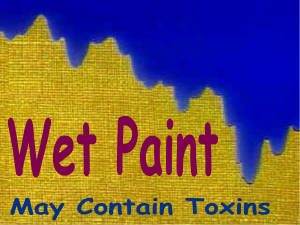 Installation
"There's never been a better time to buy environmentally responsible products," says Mark Petruzzi, Vice President of Green Seal. "It's a lot easier to be green now. If you've tried green in the past, give it a fresh look. It can lead to happier and more productive workers and occupants."
For persons who are sensitive, or have strong concerns about air quality, most major manufacturers now offer special no-VOC paints that are odorless and completely "VOC-free."
Consumers can take additional precautions to lower the VOC levels in their homes and their overall exposure to harmful compounds.
Increase ventilation when using products that emit VOCs
Buy products that contain VOCs in quantities that can be used quickly
Use products only according to manufacturer's directions
Adhere to all product warnings
Dispose of products containing VOCs properly
More Information On This Topic: