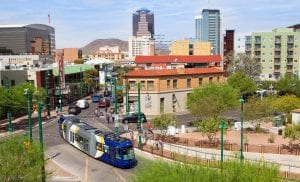 Have you ever dreamed of waking up in the middle of all the action? Downtown Tucson and the surrounding areas invite you to discover the modern, connected lifestyle in a bustling, urban city-center.  Ever since the first run of the Tucson Light Rail / Modern Streetcar, we've seen an explosion in the number of business along the track.
Living in Downtown Tucson Real Estate provides you with access to this incredibly efficient mode of transportation, along with all the great shops, restaurants, museums, concert halls, and fantastic businesses that have sprang up to serve you!
Where is Downtown Tucson?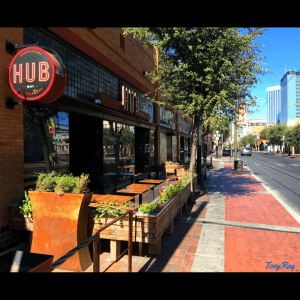 The very nature of Downtown Tucson changed dramatically with the advent of the Tucson Light Rail.  Before the light rail, Downtown Tucson was a triangle area with I-10 and E 17th St posing as the legs while Toole Ave serves as the hypotenuse.  Within that small footprint were hundreds of businesses serving tens of thousands of customers. It created a logistical nightmare. That was, before the controversial Tucson Modern Streetcar initiative.
Downtown Tucson Connected
The Tucson Light Rail was a critical component of expanding the Downtown Tucson footprint.  The Streetcar track runs from the Mercado District, through Downtown Tucson, then towards the U of A by way of 4th Avenue and University Blvd.
Along this course, the streetcar passes hundreds of amazing local businesses.  From the local downtown grocer, to the posh nightclubs along Congress, everything you need is only a short ride away!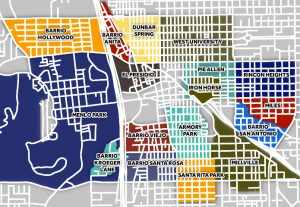 Downtown Tucson Real Estate, Neighborhoods and Subdivisions
The only thing better then going downtown is living near downtown.  Just imagine. You get the beautiful, Southwest-inspired homes of a historic Tucson neighborhood along with the connected lifestyle of a modern urban city.  It's the best of both worlds!
Allow me to take you on a tour of Downtown Tucson Real Estate. You'll experience this tour as a passenger on the Tucson Light Rail.
Homes West of Downtown Tucson
Let's begin our ride in the Mercado District. Here, we see Menlo Park. Menlo Park is a historic area of land that has been continuously occupied by humans for over 4000 years!  From there, the modern streetcar careens down Cushing Ave towards our next incredible neighborhood, Barrio Viejo!
Homes South of Downtown Tucson
Barrio Viejo is another historic Tucson district. This district has architecture that harkens back to the heady 1870s when Tucson was experiencing rapid development.  We continue our journey past Cushing Ave into the Armory Park and Armory Park Del Sol neighborhoods.
Armory Park and Armory Park Del Sol were named due to the presence of an old armory. It was established in the neighborhood shortly after Arizona became a state. This is one of Tucson's most iconic subdivisions and is featured in the National Register of Historic Places!
Homes North of Downtown Tucson
Moving on, we find ourselves entering the Iron Horse, Pie Allen and El Presidio neighborhoods. Iron Horse was named after the moniker given to trains during Western expansion.  These trains, called "Iron Horses", were operated by Southern Pacific. Southern Pacific required all of its employees to live within a certain distance from the railroad tracks.  The employees ended up living in the area which we now know as Iron Horse.
The history behind Pie Allen is equally as interesting.  A former mayor took to baking and selling dried apple pies after a failing career as a gold miner.  These pies became so popular that they eventually supplanted his identity and he became "Pie" Allen. The name now welcomes visitors to the area.
The El Presidio is perhaps the most important neighborhood in Tucson.  It is where it all started for the Old Pueblo. Spanish settlers established Presidio San Augustin del Tucson on land. Shortly after the area was inhabited by Tucson's founding fathers and rich merchants. Some of Tucson's most well-known architectural gems are located in this area.
Back on the Tucson Light Rail, we find ourselves heading towards our final stops. The University of Arizona (UA) speaks for itself.  It is a world-class institution with industry-leading professors and faculty. It is also closely connected with the West University Neighborhood.
West University was one of Tucson's first suburbs. It's a relaxing respite from the hustle and bustle of urban life. Thanks to its proximity to UA, West University has become a cultural hub for music and art in Tucson. It is also the perfect spot for any students or faculty to live. One could just walk out the door, jump on the Tucson Modern Streetcar, and be at their office or class within 5 minutes!
Homes East of Downtown Tucson
Rincon Heights is located South of UA. It is a remarkable neighborhood in it's own right.  Billed as "the middle of everywhere", Rincon Heights certainly follows through with the moniker as this central location is close to everything. With easy access to all of Tucson's prominent spaces, you can't choose a bad location in the Rincon Heights Neighborhood!
Let's depart the Tucson Light Rail at the Main Gate Square stop. Look around you and see fantastic shops and fun bars, restaurants, and nightclubs all focused to the college crowd.  Notice all the foreign foods and extravagant fashions. This is what a truly connected lifestyle looks like!
How Do I Get Into Downtown Tucson Real Estate?
I know what you're asking, "Where do I start?"  Well, you've already taken the first step. If you're reading this, then you've learned a ton about Downtown Tucson and the neighborhoods and subdivisions that connect to it. You've also learned about the Tucson Modern Streetcar and the connected lifestyle it offers.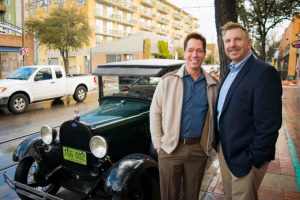 I love Downtown Tucson. I can't wait to share my years of experience in buying and selling Downtown Tucson Real Estate. It's not always easy. There are many legal and financial pitfalls that can greet any real estate buyer or seller. I've navigated the waters and I have a streamlined process to help you buy or sell your home.
I have an entire team geared towards making your real estate transaction as smooth and effortless as possible. You'll stay in the loop the whole time with regular emails and phone conversations with both Darren and I. Trust the Tony Ray Baker Group with your Downtown Tucson Real Estate purchases or sales.
Let's Get Started!
Take the second step in your journey today by telling me a little about yourself. If you're a buyer, we'll use that info to set up a custom home search. If you're a seller, we'll set up an initial consultation.
Don't wait another moment to buy or sell the Downtown Tucson Real Estate of your dreams!  Give me a call today at (520) 631-TONY (8669) or fill out the Contact Form in the right column (just below this for mobile users).