Please search all homes, lofts and condos below or use the custom "homes for sale" links in the right column to get started!  Looking to create your own advanced home search?  Simply use our user-friendly search widget in the right column of this page!  Call us if you need help or have any questions.  Thanks for stopping by, Darren and Tony Ray
Homes for Sale
---
$409,900
Open House (06/04/2023 - 11:00 am)
Property Type:
Residential
Subdivision:
Mesquite Ranch (1-619)
Description:
Beautiful 4 bedroom, 2 bathroom home in Mesquite Ranch! Located across the ...
Listing Office:
eXp Realty
Last Updated:
June - 02 - 2023
$274,950
Property Type:
Residential
Subdivision:
Southern Heights Addition
Description:
Welcome HOME to your beautifully renovated & updated mud-Adobe home on an e...
Listing Office:
OfferPad Brokerage LLC
Last Updated:
June - 02 - 2023
$344,000
Property Type:
Residential
Subdivision:
Civano 1 (166-527)
Description:
Meticulously cared for and lightly lived in Pepper Viner built 2BR/2BA home...
Listing Office:
Tierra Antigua Realty
Last Updated:
June - 02 - 2023
$439,900
Open House (06/02/2023 - 11:30 am)
Property Type:
Residential
Subdivision:
Pines Phase II
Description:
Great VIEWS! 4 bedrooms, 3 baths with stunning golf course and sunset views...
Listing Office:
Keller Williams Southern Arizona
Last Updated:
June - 02 - 2023
$425,000
Property Type:
Residential
Subdivision:
Skyline Country Club Estates (1-54)
Description:
True Tucson charm. This adobe home has lots of the Tucson character that ev...
Listing Office:
Long Realty Company
Last Updated:
June - 02 - 2023
$335,000
Property Type:
Residential
Subdivision:
Laurel Heights Amended
Description:
Welcome to 5930 S Stelzer Dr for your opportunity to own this remarkable 4B...
Listing Office:
Realty Executives Arizona Territory
Last Updated:
June - 02 - 2023
$150,000
Property Type:
Residential
Subdivision:
Sunset Foothills Condos (1-201)
Description:
Remodeled single-story bungalow condo with a one bedroom one bath and large...
Listing Office:
Lease-N-Buy With Ease
Last Updated:
June - 02 - 2023
$699,999
Property Type:
Residential
Subdivision:
Tucson Estates NO. 2 (1-560)
Description:
Indulge in the allure of a custom-built golf course residence in Tucson Est...
Listing Office:
Meeks Realty
Last Updated:
June - 02 - 2023
$399,000
Property Type:
Residential
Subdivision:
Catalina Del Rey (1-179)
Description:
Light & Airy Townhome! Beautiful Hardwood Floors! Brand New Wall of Anderso...
Listing Office:
Arizona Brokers
Last Updated:
June - 02 - 2023
$295,000
Property Type:
Residential
Subdivision:
Rancho Reyes II (1-177)
Description:
Freshly painted inside and out with a beautiful and modern gray color palet...
Listing Office:
Tierra Antigua Realty
Last Updated:
June - 02 - 2023
---
The data relating to real estate listings on this website comes in part from the Internet Data Exchange (IDX) program of Multiple Listing Service of Southern Arizona. IDX information is provided exclusively for consumers' personal, non-commercial use and may not be used for any purpose other than to identify prospective properties consumers may be interested in purchasing. Listings provided by brokerages other than the listing brokerage here are identified with the MLSSAZ IDX Logo. All Information Is Deemed Reliable But Is Not Guaranteed Accurate. Listing information Copyright 2020 MLS of Southern Arizona. All Rights Reserved.
Homes for sale using down payment assistance programs:
Pathway to Purchase (P2P) provides up to $20,000 To Help You Buy a Home.
Pathway to Purchase Eligible Homes Search
Finding the perfect home can be a lengthy process. With thousands of Tucson Homes for Sale in the Realtor MLS, it can take hours to search through all of them.
Luckily enough, we have a system which will take your interests and exactly what you are looking for in a home and we will do the searching for you. Every day, we'll send you homes that meet your criteria and you can browse through multiple targeted listings during your morning coffee. Interested in a custom search tailored to your specific needs?
Find your next home with the Tony Ray Baker Group.  Above are the latest homes for sale in the Tucson metro area and surrounding areas (Vail, Marana, Oro Valley, Catalina, and Saddlebrook).  Feel free to browse or choose from our Custom Tucson MLS Searches to quickly find the perfect home for you!
Moving to Tucson from another city? Get your Free Relocation Package today for the latest on Tucson living!
Hi, happy Saturday, i'm Tony Ray and I'm Darren! Haha, you're not Darren, you're Tom Heath! This is Tom Heath from Nova Home Loans! Thanks for dropping by today. Where's Darren? He is at a wonderful museum downtown that you might want to visit next week! Darren's not here with us so we get to play today!
We're going to talk about some fun things: somebody named Wilbur and Wilma, and then we're gonna talk about entering a whole new dimension, which I'm very excited about on my techie thing! And shopping, cocktails, and a chick flick! And we're going to talk about an out of town event you gotta know about. We have a cool house for you to see today:
Million Dollar Home for Sale at 3098 N Fennimore Avenue, Tucson AZ 85749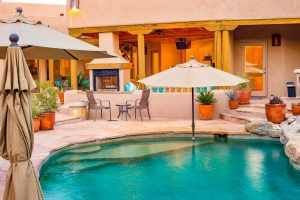 The Fennimore House is over 5,000 square feet, five bedrooms, five baths, it's over a million dollar home, and just the backyard that you're looking at now is a about a $150,000 backyard. It's got a swimming pool, spa, beautiful private patios, and beautiful outdoor kitchen with a giant fireplace! The price just came down to $949,000, so it's a great buy! If you have somebody that you know or you would like to see it, give us a at (520) 631-8669 and we will take you to see the Fennimore House!  Or check below for all the information you'll need about this amazing home for sale and click the "Schedule Showing" button to instantly put me to work for you!
Oh, almost forgot, it's out east in this Grove of Mesquite with mountains and beautiful, lush mesquite trees all around; it it's a beautiful setting! Plus, if you're a doctor or professional, give me a call because we've got some great low down payment options in this one as well!
Fun Things to Do in Tucson
Next, we'd like to talk about some fun things to do! This is a crazy, crazy weekend!
Tucson Meet Yourself and Second Saturday Collide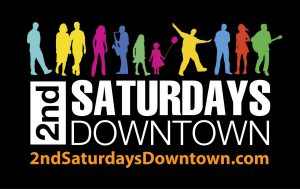 We have a Tucson Meet Yourself, have you done that before? I have, i think it's called Tucson Eat Yourself 🙂 I guess every chef has it some sort of dishes but they're all under 8 bucks! We were at their last night, place was packed, tremendous food, tremendous energy, lots of entertainment, nice all weekend long!
The super collision that's happening today is like when the Moon and the Sun collide and the stars all get sucked into the vortex… I'm making this up but its Second Saturday! So Second Saturday and Tucson Meet Yourself all coming today, so it's going to be packed! Here's my suggestion; Uber Taxi, Lyft, whatever you have to do, just don't try to drive into the city tonight. Park at the Mercado or Park at the U of A and Lght Rail in; that's a good tip right there you! It's a crazy weekend downtown, this is the place to be tonight.
Nightfall at Old Tucson Studios
Tomorrow, Old Tucson Nightfall is going on! I love Halloween so this is a great thing to go see. There's a lot of fun stuff coming up, we'll talk next week about some scary things coming up like corn mazes.
Speaking of Pumpkin
Pumpkin is really good for your dogs, by the way, if they have an upset stomach. It responds just like imodium, use a little bit, a couple tablespoons, if your puppy or dog needs some help. Pumpkin is great! Not canned pumpkin that goes into pie fillings, it's got to be pure pumpkin.
Wilbur and Wilma's Playground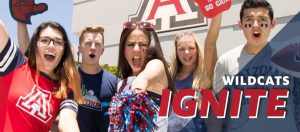 What else we talk about? Wilbur and Wilma! You said you know them? Yeah, i think i was at the wedding 🙂 Ok, different Wilbur and Wilma 🙂 It's called Wilbur and Wilma's Playground, it's at the U of A and it's supposed to be next week and it's crazy fun, cool stuff and it's on our Things to Do calendar at SeeTucsonHomes.com.
Just look up Wilbur and Wilma and you'll see it on next Saturday. The playground features all kinds of blow ups and playground stuff for the kids; it's must be really cool, so if you have kids that's a good event for next weekend on the U of A Mall.
Glam Bash at the Fox Theatre
Also this next weekend coming up is something called Glam Bash at the Fox Theatre and it's about shopping, cocktails, and chick flicks. So ladies might want to check that out, it's on our calendar.
26th Annual Great Steps in Bisbee
Next weekend is also really cool because it's the 26th annual Great Steps, the thousands step event where you walk up a thousand or more steps. Spend an hour and a half driving t0 Bisbee and then you walk up these steps and then if you don't pass out from lack of oxygen, you can have a beer and a cool sandwich at the Copper Queen!
Here's the crazy virtual reality demo I did live on stage at Oculus Connect today. The idea is that virtual reality puts people first. It's all about who you're with. Once you're in there, you can do anything you want together — travel to Mars, play games, fight with swords, watch movies or teleport home to see your family. You have an environment where you can experience anything.
Posted by Mark Zuckerberg on Thursday, October 6, 2016
Tony's Techie Tip of the Week
I want to talk to you about my techie thing today; if you haven't seen this, Mark Zuckerberg released the new virtual reality video yesterday, have you seen it? I posted it on Facebook.com/TonyRayBaker, it's on my personal page and you gotta go there and check it out!
Watch it because it's totally unique, it's just a new dimension, virtual reality in a different way! They show Mark and his wife and some other people and they're moving in two different locations and they're playing games together and they're all in Virtual Reality at the same time! Wow :0
It's one of those things you might have to watch a couple times to kind of wrap your mind about what's coming in technology, so it's very exciting!
The Wrap Up
I think that's it for today, is anything else you want to talk about? Professional hockey starts tomorrow at noon at TCC, there's no admission cost but they're asking for donations to support the Ice Cats and the regular season kicks off, i believe, the 28th of October, so we've got the RoadRunners in town in support!
Well, i think that concludes our day for today. Next week, we're going to have something fun! We're going to do a field trip and Darren should be here 😉
We will i see you then, thanks for stopping by and if you will please like us on this page, make sure you do that because then you can communicate with us and we can see your questions and comments! Like and share please 🙂
I'm Tony Ray Baker with Tierra Antigua Realty and I'm actually Tom Heath with Nova Home Loans, have a great day!