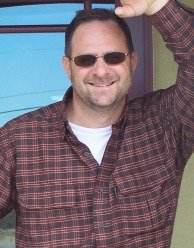 Meet Tim: Tim Polito is a builder, architect, draftsman and green consultant in Tucson and its surrounding areas. Tim, a native "Tucsonan", established Gipson Corwin Homes LLC in 2004.
Tim is also the first contractor and builder in Southern Arizona to build a U.S. Green Building Council LEED Certified Home. (LEED, is a designation from the US Green Building Council which stands for Leadership in Energy and Environmental Design.)
A LEED Certified Home is not an easy build. As of today, December 16, 2009, there are only a few LEED Certified Homes in Southern Arizona. Hopefully we will see a lot more in the near future.
Want to build new?
Gipson Corwin Homes, LLC can help you with your own plans and ideas. They also have floor plans already available to choose from and modify to your needs. All of the available floor plans are drafted and developed by Tim.
Need to remodel?
Tim excels there as well, which is why he has done so many remodels in Southern Arizona. From small to large scale, remodeling has several advantages. Tim will help ease the remodel process and make sure you are taking advantage of all that remodeling has to offer.
Greening Your Home
As the first LEED Certified Home Builder in Southern Arizona, Tim Polito is the ultimate green consultant. No one knows green like Tim. Tim can help you with home health issues, environmentally safer products and reducing utility costs. Just a few of the ways a green consultant can help you improve your home.
Check out the videos about Tim's first LEED Certified Home. Tim and I will take you through about 10 different aspects of the home. You can watch all of them in order or watch only a few. Each is about 3 minutes long and cover some great green features you may want to incorporate in your home.
The Water Heater: Located in the mechanical room, the solar hot water heater has an electric back up, on demand cert pump and a coil filled with a glycose solution to warm the tank.
The Flood Mats: To help prevent flooding and potential mold, a flood mat (water sensor) is placed in areas where water can leak. If the system detects a leak, the water is shut off.
The Flooring: Made of recycle plastic bottles and corn waste, the carpet is very durable and stain resistant as well as earth friendly. The Laminate flooring is a floating, glue free floor made of 50% recycled materials.
The Kitchen: Natural counter tops and low VOC cabinets, a few of the green features.
The Bathroom: Green features in bathroom include a "on demand" hot water button, a timer for the exhaust fan and grey water sytem.
The Attic: Low VOC Icining Insulation is blown into the attic roof area. Blower unit for 16 seer air conditioning unit is also in the attic.
Air Circulation: Maximum air circulation is achieved with green features like the digital thermostat, cupola and whole house fan.