Jack Furriers Tire and Auto Care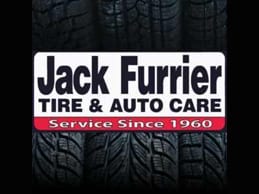 My Description:
On a road trip back from San Diego to Tucson, just outside of Yuma, a semi traveling in front of me, caught on fire. The driver hit his breaks and separated the trailer from the rig, causing the trailer to turn and slide to a stop as it blocked all 3 lanes. The rig stopped in front of me, on FIRE. I was in the right lane, so in order to do avoid the rig, I opted to go right and off the freeway, heading down into the raveen. My Jeep SUV handled well and I was able to ride along the side of the freeway, down in the ditch, past the semi and then head back up in front of the burning vehicle. We called 911 and no one was injured. The semi melted into the pavement. The next day I went to pick up clients only to discover that I had four flat tires. I had the car towed to Jack Furriers and they fixed the tires which were all full of railroad spikes. Go Figure. The manager would not let me pay for the fix. I told him that I did not buy the tires there and he still would not take my money. He said, remember that we are here any time you need us. And we have. They have been taking care of our cars for over 10 years now. Their prices are always fair, much lower than the dealer, and they are very honest. Fixing what needs fixed. Rarely are there any surprises.
Service Description:
Thank you Tucson for voting Jack Furrier your favorite 4 years in a row! We appreciate every vote that made us the favorite Auto Repair Shop and Best Tire Store and Oil Change Station. We will do our very best to continue to earn your confidence in these awards as well as being recognized as Best Locally Owned Business and Best Customer Service. Thanks you Arizona and Tucson.com's Readers Choice awards 2015, 2016, 2017 & 2018! We hope you will call us for tire repair, new tire purchases, automotive repair with ASE certified Technicians, including oil changes, battery replacement, brakes, alignment, and guaranteed auto repair service. We've built a team of go to guides dedicated to all your automotive needs – we are here to get you there!