White Stallion Ranch
Tucson is known for having been a hotspot location for many classic Hollywood Western films. Old Tucson is the most famous Western film setting in Tucson, but White Stallion Ranch is another site that hosted films including Arizona, The Last Roundup, and Winchester 73. White Stallion Ranch is now an amazing getaway for anyone wanting to experience a true taste of the Southwest.
White Stallion Ranch offers a variety of activities and vacation packages, including the Cactus Cowgirls event. Cactus Cowgirls is a week-long ladies-only vacation where you can enjoy horse riding lessons, a margarita party, a massage, country-western dance lessons, and more!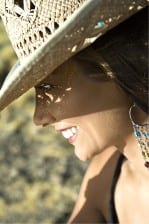 For the whole family, WSR offers hayrides, cookouts, and rodeo demonstrations. You can also take a wine and cheese ride to sample some local favorites (or the "beer and Cheetos" ride for those who prefer beer!). In addition to the filming of many Hollywood movies at White Stallion Ranch, it's also the location of a Sports Illustrated Swim Suit Edition!
For art lovers, WSR is a beautiful place for inspiration and tranquility. They also host workshops every month for photography, drawing, and many other topics. So whether you're an experienced artist or a budding one, they have a class for you.
Finding the time and money to go out of town for a vacation can be tough; luckily White Stallion Ranch is a wonderful location for a "stay"cation right here in Tucson! The fun and friendly atmosphere make visiting White Stallion Ranch a great thing to do in Tucson. If you're looking for additional staycation spots consider the Ritz-Carlton at Dove Mountain. Or perhaps the Cat Mountain Station Lodge. Whatever you chose we are positive you will enjoy your stay.