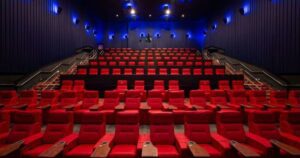 Phone: (520) 407-9874
Website: https://www.galaxytheatres.com/
Address: 100 S Houghton Rd, Tucson, AZ 85748
Google Reviews
They offer real butter on your popcorn. Need I say more? Well, I will. You can also add seasonings to your popcorn at one of the seasoning stations. You can also get beer, wine and soda to help wash down the popcorn. Sit back and relax in their comfortable, reclining seats.