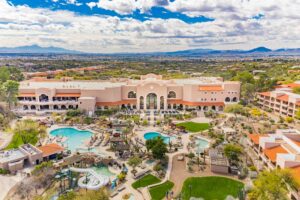 Website: The Westin La Paloma Resort & Spa
Address: 3800 E Sunrise Dr, Tucson, AZ 85718
Phone: (520) 742-6000
Google Reviews: 4 Stars
The Westin La Paloma isn't really a hotel. It's a lush resort and spa, an oasis in the Sonoran Desert perfect for visitors and staycationers alike. It's a AAA Four-Diamond Hotel which translates to "upscale style and amenities, enhanced with the right touch of service." It may not be top tier but it's pretty close and you'll certainly feel posh strolling the grounds.
The Rooms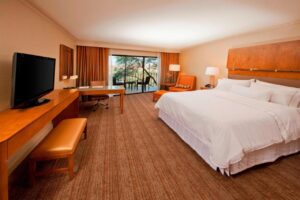 In addition to regular hotel rooms, they have deluxe guest rooms and a variety of suites. All come with warm bronze tones and neutral hues found in a desert. The rooms also have a variety of window views to choose from. They have stunning mountain views and golf course views, etc. But, as comforting and wonderful as the rooms are they aren't the best part of the Westin La Paloma.
The Grounds
Outside of your room, you'll find everything you might want to do. You'll find the Jack Nicklaus Signature Golf Course, tennis courts, a waterslide, pool, mineral waterfall, fitness center, meeting rooms, and even an onsite spa! There is always plenty to do even if you never leave the grounds.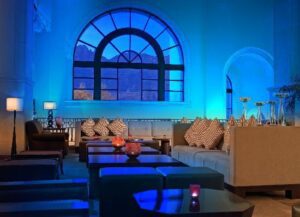 You might be thinking, "what about dining?" No problem. If you decide you want something other than room service delivered the Westin La Paloma has options. If you're looking for casual, Sabino's Pool Bar & Grill and Espresso Coffee House are your best options for quick and tasty. For a sit-down, you can find grub all day at AZul Restaurant or head to Contigo Latin Kitchen for dinner.
But wait, there's more! If you're looking for a late-night light bite or crafty cocktails with a side of entertainment head over to the AZul Lounge. It's worth mentioning that the entertainment is only booked for the weekends so plan accordingly.
We are positive you're going to love it here, after all, it's Tucson. The only con we found was that there is a $29 per night resort fee that isn't included in the room pricing and it should be. Aside from that sneaky bit, we're happy to recommend the Westin La Paloma.