If you're thinking about visiting Tucson in the future or having someone visiting you, we're going to tell you about one of our favorite spots to stay in town. The Hotel McCoy is a gem in the desert, just off the freeway and 1 mile from beautiful Downtown Tucson. This small boutique hotel is turning heads everywhere with its unique rooms and gorgeous murals.
The Real (Hotel) McCoy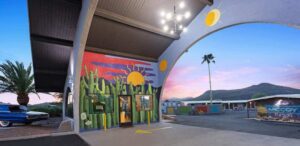 When we call McCoy a boutique hotel, we mean it. There is a small selection of rooms but the personality packing those rooms are huge! Several local muralists have painted on the outside as well as the inside. Local art is everywhere, so when you rent a room, you're also going to a gallery.
Hotel McCoy gets its name from a little-known and lesser-traveled mountain range in Southeastern California to Southwestern Arizona. They boast "function and affordability," and that's no lie. "True to our roots, Hotel McCoy emphasizes function & affordability – offering fellow wanderers local style & high-end amenities at reachable rates. This is what we call Travel For All."
If you dread schlepping your bags down long corridors after the elevator ride then you can relax. You can literally drive up to your room after check-in. Of course, Hotel McCoy offers the usual amenities one finds at travel lodging. There's a pool, Wi-Fi, mini-gym, television, and complimentary breakfast. The lobby offers workstations for those of you that need to work on the go. Additionally, while having limited rooms, they also have adjoining rooms for those traveling in a caravan and need to stick close to each other.
All of that is great, sure, but it's not why we love it so much.
Dedication to Support Local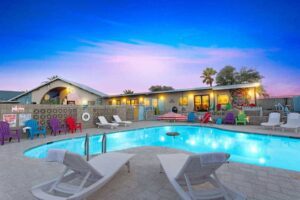 Everything about the Hotel McCoy is about upcycling and supporting local. That's why they made it to the top of our list in accommodation. From the rooms and walls painted by local artists to the fact that the building itself is a great example of a mid-century refurbishment.
The coffee they use and sell is roasted here in Tucson and the wine they serve is grown and bottled at an Arizona vineyard. That goes for their beer also. On-site you will also find Barrio Books, a collection of local literature, owned and operated by a woman entrepreneur. Pick up something to read or an awesome souvenir to remember Tucson by.
We know you have lots of options when looking for travel accommodations, but we want to make sure that Hotel McCoy is on your radar when looking. This place embodies that artistic spirit of Tucson and we think you or someone in your life is going to love it.
Transcript For Above Video
Tony Ray Baker
Hi, I'm Tony Ray Baker. And this is Jeremy Rains. Hey, it is you! We are with RE/MAX Select and today we're out at a really awesome, cool, kitchy, place called Hotel McCoy by the sign as you can see. We wanted to come discover it. Have you ever been here?
Jeremy Rains
I've never been here.
Tony Ray Baker
I've never been here either, so we're going to discover it together. We're going to take a walk through there. We're right off the freeway, which is very loud, as you can see on, because I'm on the main road right now. It's quiet inside. With the freeways there, this is quick, easy access to get to downtown and all kinds of cool stuff around Tucson. So let's walk and check it out.
Tony Ray Baker
I love the wicked cool old car.
Jeremy Rains
The Thunderbird. Oh yeah!
Tony Ray Baker
What year do you think that is?
Jeremy Rains
They stopped making them in the early 60s? So it's old.
Tony Ray Baker
I love what they did with the murals going on in here. This one says by Alex Jimenez…
Jeremy Rains
Tucson Toonland, and you'll see them throughout the whole complex here. There's tons of local artists and murals throughout.
Tony Ray Baker
It's really cool and there's a little touch of retro 50s going down with the lamps and these cool murals, which are really catchy Southwest Tucson. .
Tony Ray Baker
I mean, do these still work?
Jeremy Rains
No? Bring your cell phones.
Tony Ray Baker
That's kind of cool. This is pretty interesting to. It says, "No Place Like Tucson" poem. Can you see the name on that poem?
Jeremy Rains
Genevieve Dahl
Tony Ray Baker
It looks like the poem starts here, and you have to walk all the way down to get the poem. Yeah, that's pretty cool, right? That's a touch of just cool.
Jeremy Rains
Oh, yeah, very thoughtful.
Tony Ray Baker
It look like they must have had local artists playing around, because…
Jeremy Rains
yeah, they're different. Different style. This is a little cartoony, that's more airbrush.
Tony Ray Baker
Okay. So here's one of the other cool things. This is one of my favorite muralists, Joe Pagic. And I didn't even know this was here. This is so fun!. It's like his omage to 4th Avenue? Maybe? Because well, behind you is Bison Witch's. Can you see? Yeah, it's by Bison Witches. And then this is the Hut. And then you've got Hippie Gypsy down there. I'm not sure where we're going with that, but it's really fun.
Tony Ray Baker
I know this means something. Joe is so cool! Anyways, I got lost on the mural. Yeah, these are all over this hotel. They are really cool. So the other thing is that you will probably want to find these guys. So I'm going to give you their website address. It's HotelMcCoy.com. And this has been here for about three years from what I understand, and the building was from the 1960s.
Jeremy Rains
It definitely has it kept its charm.
Tony Ray Baker
Absolutely. They brought it back in a very cool way. It's kitschy fun. They've included a lot of local talent. I love what they've done here.
Tony Ray Baker
I don't know when this was built, but it has a 1950s wicked…
Jeremy Rains
Oh yeah, it's very retro.
Tony Ray Baker
Can't you see some light celebrities drinking martinis out by this pool? Yes, absolutely. So cool. I want to go swimming.
Jeremy Rains
Reminds me of "Catch Me If You Can." That kind of pool party vibe?
Tony Ray Baker
Yeah, absolutely. Yeah, look at even the stacks. Yeah, the exhaust vents on what looks like those are the restrooms over there. It's very kitschy cool. . So inside this building is an art gallery. The check-in, of course, a little restaurant, dining area. And then they have I thought I saw a pinball machine and some other kitschy fun things in here.
Tony Ray Baker
I'm not gonna go in, masks are required and we've got great music to give us a backdrop. I think you need to check this out. Do they have events here Jen? The photographer behind us?
Jenn Hopkins
They did pre-pandemic. But I know a lot of it tapered off due to obvious reason. They did have regular events, like trivia nights and very fun fun stuff,
Tony Ray Baker
Also down here, you can see it's an old motor hotel, and there's just tons of room. Go online to the website and check out their photography and all the fun stuff.
Jeremy Rains
Yeah, yeah, I'm sure you can check their availability there as well. And it's definitely worth coming and check it out for a night. Yeah, go staycation.
Tony Ray Baker
Yeah, it's kitschy, Southwest Tucson. This is like the cool stuff you want to come see.
Jeremy Rains
Absolutely. Great views, by the way, did you see A Mountain?
Tony Ray Baker
Yeah, this would be the place to be at the pole for Fourth of July fireworks. Oh, that's a great idea. Book rooms here for Fourth of July fireworks. You could be out here a night with the fireworks right above you. We gotta do that.
Jeremy Rains
Don't post this yet. We gotta we gotta we gotta reserve some rooms first 🙂
Tony Ray Baker
I'm Tony Ray Baker with RE/MAZ Select
Tony Ray Baker
Jeremy Rains with RE/MAX Select.
Tony Ray Baker
Call me at 520-631-8669, or call Jeremy at 520-780-0814.