It's not unknown that our fair city of Tucson, Arizona has more than its fair share of artisans and craftspeople. From our amazing mural scene to fine and intricately done jewelry found at the Gem & Mineral Show, there is no shortage of eye-catching art. But one of our absolute favorite places to buy (and make) stunning glass art is the Sonoran Glass School.
Founded in 1999 this glass school is the only full-time, non-profit, educational arts organization in the Southwest! They have four separate classrooms dedicated to different styles of glass craft and skills. Tucson favorites Tom Philabaum and Dave Klein founded the Sonoran Art Foundation, Inc. and the dream was born.
The 4 Craft Types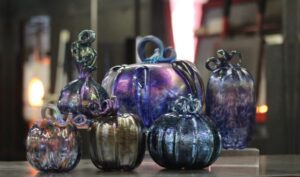 At the Sonoran Glass School, you can take a variety of classes but most fall into one of four categories. Hot shop will get you into furnace glassblowing, Shapes, paperweights, and vases are common things made in this studio.
The second studio is the Flame Shop where things become more detailed. Using a flame torch to melt glass beads, metal, and other components you will make pendants, goblets, or sculptures.
The third type of studio class is the Warm Shop. Here you will learn to work with sheets of glass and pick up slumping and fusing techniques. Decorative dishes, bowls, votives, and mosaics all come out of the warm class.
Finally, we come to the Cold Shop. This studio is where you're going to shape and refine your glass masterpieces. Sand edges, cut strips, polish and lathe your work. No heat is used hence the "cold shop."
Classes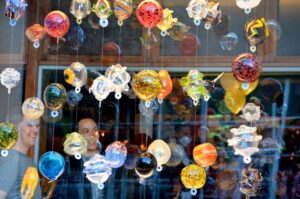 Whether you need to take the intro classes or are a seasoned veteran of the glass world SGS will have something great for you. You can take single classes or register for an entire semester worth if your commitment is there.
You can even make your own experience! They have a list of specific projects to choose from so there are plenty of options. From a simple glass ornament to glass pumpkins and flowers. You may discover you have a hidden talent and pick up a new lifelong passion.
Outreach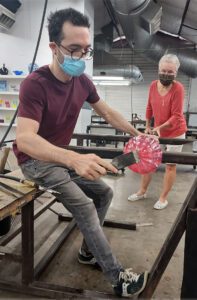 All the above, on its own, are reason enough for us to recommend the Sonoran Glass School. However, it's their outreach programs that garner love and respect from us. Besides offering mobile glass services, and group and corporate team building, they have a youth program.
That's what really resonates with us. "Through glass making, our local high school, elementary, and middle school students learn the importance of communication, coordination, and teamwork." -from the Sonoran Glass School website.
These programs have received funding from the Arizona Commission of the Arts and the National Endowment of the Arts, to name a couple. The school also places importance on public art installations. We think it's fantastic that not only are they making the art, but they're bringing it to the public and teaching everyone the importance of art.
Whether just taking a tour or taking a class in glass we think you'll love them as much as we do.