Are you looking for a laid-back creative experience? If so, look no further than Arte Bella on 4th Avenue. This multifunctional space is a great fit for anyone who wants to take an art class, but the idea of a formal setting is off-putting. Currently, Arte Bella on 4th is the only 420 friendly bar/restaurant/art class in Tucson.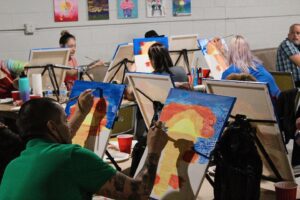 But we're here to talk about the artistic experience. Painting is what they specialize in, and all classes come with a 16×20" canvas, acrylic paint (quick dry time and no dangerous or stinky solvents,) and step-by-step instruction on how to create your personal masterpiece!
The Classes
Paint & Puff: This class is painting 101, just the basics. There's usually a theme for these classes, such as painting Dwight from The Office, or a moonlit desert scene. An art instructor will guide you through the process, the color pallet pre-selected.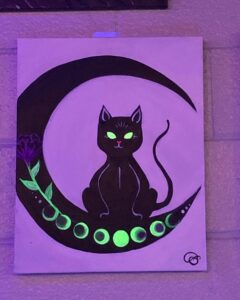 Blacklight Painting: Just like it sounds. Blacklights are set up so you can see what you're doing as you push around the light reactive paint. You can follow along with the art teacher or paint your own thing.
Drop-In's Welcome: Pretty much any time Arte Bella on 4th is open you can pop in for a quick painting sesh. If you do drop in you can select from a 12×12" for $19, or a 16×24" for $24. Instructors do not lead drop-in sessions, but assistance is always available when you need it.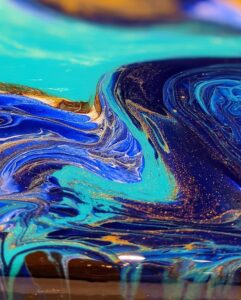 Acrylic Pours: Canvas is available in a variety of sizes including a 12" vinal. In this class, you learn how to pour acrylic paint in layers for a dreamy organic finish. Metallic paint, glitter, and foils are also available to pour for some extra pizazz.
Check out their upcoming classes here!
Arte Bella on 4th
340 N. 4th Ave
Tucson, AZ 85705
520-526-2588