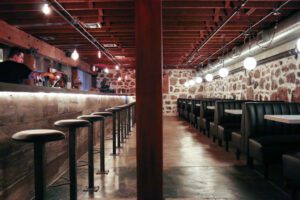 You may have heard about a speakeasy-style bar in the basement of Reilly's Craft Pizza. If you haven't let me tell you about the Tough Luck Club. It's more than a bar, it's a mood. But don't worry, you don't have to be down on your luck to drink here. Everyone is welcome.
"The theme of this menu is tough luck, heartbreak, and disaster. The world can be a bleak, cruel place and we figure the best response is laughter. In the spirit of Tough Luck Club, don't take it too seriously and have some fun tonight. After all, things could be worse." -front page of the menu.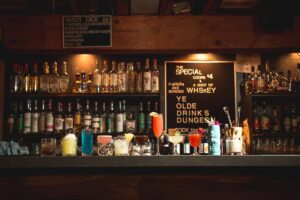 The Tough Luck Club has an interesting history. Before it was Reilly's it was formerly a funeral home with the TLC occupying the space that was the embalming room. The stones in the walls are originally from 'A' Mountain in the early 1900s when the building finished construction. It looks and feels old because it is old, and the dim lighting only adds to that yesteryear nostalgia.
The Drinks
You can't order food in the basement so make sure you grab a bite to eat before visiting because the drinks are as strong as the ambiance. The bar holds no more than 70 people and has a smallish craft cocktail list that adds to the intimate feeling down there.
Many of their specialty craft drinks were designed by the bartenders themselves and continue to be on the menu even after the creator left. You can, of course, order standards like the Tom Collins and even the basics like a rum and Coke. But they'll do it their way with artisanal ingredients and style.
They do have several beers on tap and a small selection of wine if you're not into fancy drinks but still want to go with friends. A couple of our favorites are: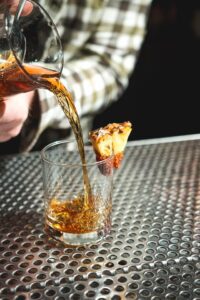 2 Years & 4 Divorces- has pomegranate juice, sparkling wine, with nutmeg syrup, and a dash of grappa.
&
Basin Street Queen – mixes whiskey, cognac, & maraschino brandy with mauby  & valerian root.
Address: 101 E Pennington St, Tucson, AZ 85701
Phone: (520) 882-5550