[youtube id="dnuZGB8n4DY" align="center" mode="normal" maxwidth="840″]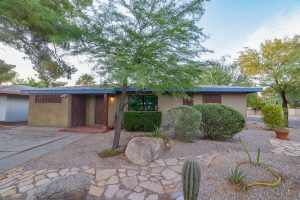 5655 E Rosewood Tucson AZ 85711 360° Home Tour
Thanks for tuning in, i'm Darren Jones with Tierra Antigua Realty and today we're at 5655 East Rosewood Street, Tucson AZ 85711.  We are coming to you in 360° virtual reality, which is a really exciting new technology that allows you to move the the camera around to see this wonderful landscaping anytime you'd like.  In fact, you can even pause the action and take your time to see exactly what you'd like, you're the director!
You can't find this home on the Tucson Multiple Listing Service (MLS). This is an exclusive listing that you can only find with us.  Take this 360° home tour then give is a call for the real thing today!
I want you to check out this great front yard, this is some serious zero-scaping! We have great specimens of cactus, mature trees, bamboo and everything is really low maintenance 🙂 Now, I want to show you the inside of the house. Let's check it out!
Let's go Inside, You're going to Love this Remodel
Once inside, we come into this great room which is a fantastic entertaining space. Over here we have a great built-in bar featuring granite counter tops. Combined with the double sinks in the kitchen, this is the perfect space for entertaining and serving cocktails. Moving over into the kitchen area, you'll notice this great open concept. You're always interacting and just really feeling like you're part of the action instead of being stuck in the kitchen. The kitchen is really, really well laid out. It has porcelain tile floors, granite counter tops, beautiful dark cabinetry, black appliances and a five-burner gas stove. Who could ask for anything more?
Bedroom 3 is a Perfect Guest Suite or Office.  It has a Private Entrance.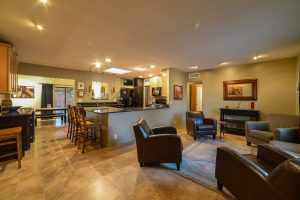 As we move down into the hallway, I want you to check out this great bathroom. This bathroom has two shower heads, a raised pedestal sink, flagstone floors  and a walk-in shower. It's a really easy to care for and a very modern bathroom.
Down the hallway, we have a large first bedroom located right next to the bathroom.  Its a good sized room with 2 picture windows and a large closet. Master bedroom has a small bath with a walk-in shower, toilet, and sink. You can also use this as a guest room if you'd rather have the nice big bath at the end of the hall 🙂
There's also a great little step down dining area right past the kitchen which leads out to a patio and a great backyard, which we will take a look at later, but to the left we have a large den.
This den is great for entertaining and is one of my favorite places to kind of hang out. As a bonus, there's another bedroom which also has a separate exit so that, if your guests are staying here, they don't have to bother you, they can come and go at will.
Let's check out the backyard!
This has a huge covered patio with lots of seating all around, flagstone pavers everywhere, there's beautiful bamboo, mature trees, citrus, flowering pomegranates, and again low care easy landscape. Looks like it's ready for a BBQ and you can entertain year-round out on this great spacious patio.
Remember, this is an exclusive listing and can't be found anywhere else.
If you would like more information on this fantastic home for sale at 5655 E Rosewood Tucson AZ 85711,
just give us a call at (520) 631-TONY (8669) or send us a message below the photo gallery!
We hope you enjoyed this 360° Home Tour, Darren and Tony Ray